---
Mt. McKinley: Jones & Team Take it to 11K Camp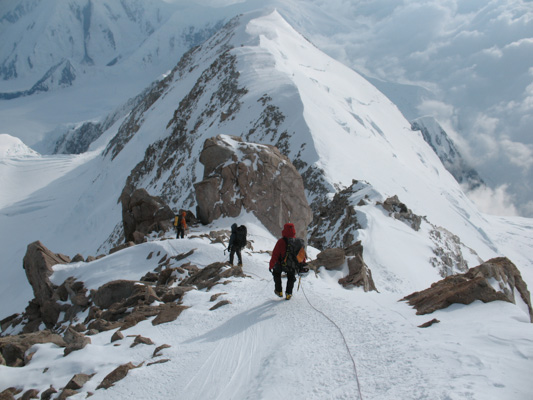 June 22, 2014 - 12:49 am PT
Today we woke to a cold, windy morning at high camp after yesterday's amazing summit. The blowing snow and frigid temperatures kept us tent-bound until mid-day, when the allure of thicker air and warmer temperatures finally got us motivated to pack up and get moving.
The first stretch down the buttress was windy and cold, but by the time we reached Washburn's Thumb it was much warmer and calmer. We made quick work of the last stretch to the lines, and then shot down the fixed ropes like it was our job. Soon we were dropping packs back in 14k camp, saying hey to Billy Nugent and Mike Haugen and their respective teams, picking up our cache and getting ready to move further down.
Soon enough, we got past Squirrel and Motorcycle Hills, revisiting our old stomping grounds at 11k. We pulled out all the cheese, meat, tortillas, and bagels we had, and commenced to put them all onto the griddle for the annual tradition of the "11,000' Cheese Fry". Basically we just cook all the goodness until folks are full, and then it's off to bed for the early am launch.
We're definitely missing the team members who had to head home early, and hope that everyone is warm and dry. Lots of walking left, but we should be at the airstrip tomorrow if all goes according to plan. We'll check back then!
Cheers,
RMI Guides Garrett Stevens, Tyler Jones, Geoff Schellens and the No Troubles team
On The Map
×
Sign Up For Denali 2014 Emails
{/exp:mailinglist:form}
---
More to Explore
Mt. McKinley: Haugen & Team Mission Accomplished
June 22, 2014