---
Aconcagua: King & Team Make a Carry to Camp 2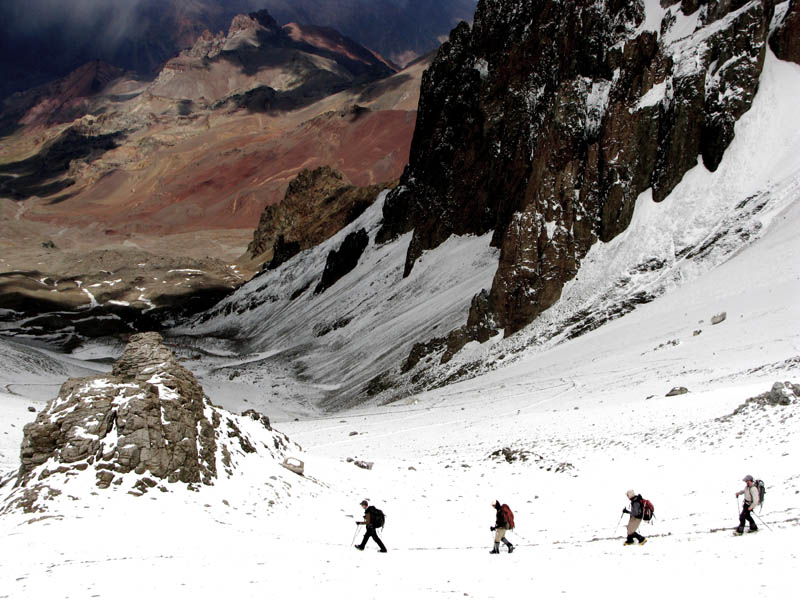 The general consensus was that last night -20 degree sleeping bags were more then warm, they were down right hot at times. In a three-person tent filled with enough goose down, it can look like one of those ball pits at a McDonalds… Good luck finding anything your looking for.
We woke with the sun hitting our tents and not even a hint of wind the entire night. The first night at a new altitude can make good sleep difficult and the Team was feeling the effects of this and the move up from Aconcagua Base Camp.
Our task today was to move food, fuel and some summit gear up to Camp 2, located at 18,000'. The trail takes us up to Amegenio Col (saddle) with spectacular views of the Central Andes. Glaciated peaks like El Mano and Mercedario dominate the skyline. The group did well with the carry and even better showcasing their downhill skills.
Rest, water, food and some cards is all that remains of the day. We'll take a rest day tomorrow.
×
Sign Up For Aconcagua 2018 Emails
{/exp:mailinglist:form}
---
More to Explore
Ecuador Seminar: Knoff & Team Move Into the Refugio
January 7, 2018
Ecuador Seminar: Knoff & Team Train on Cotopaxi
January 7, 2018