---
Mt. Everest: Happy Nepali New Year!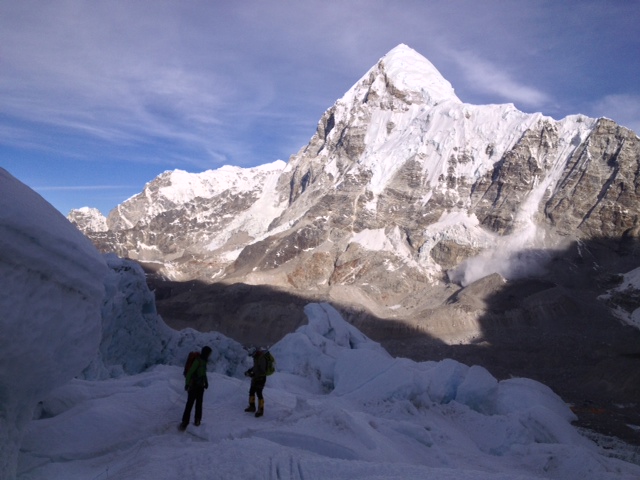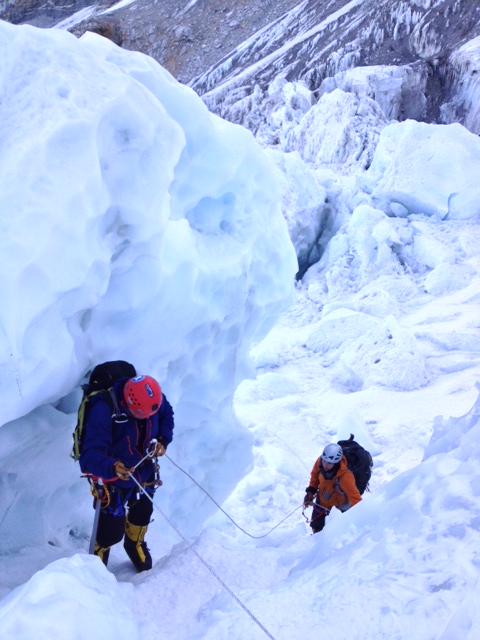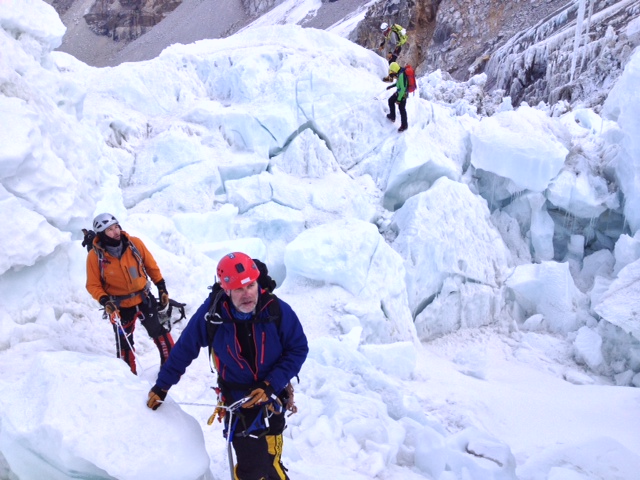 Dress Rehearsal Day. We were up at 4 AM, breakfasting by 4:15 and throwing on our packs about an hour later. By the time we were getting our crampons on, it was just lit enough that we no longer needed the headlights. The goal today was a "practice run" up to the midway point of the Khumbu Icefall route. We were lucky in that there was very little traffic on the route this morning. Blame that on the New Year's observances, I suppose, but it all worked well for us. We moved up through the "first ladders" area and then up the steep and airy "popcorn" section. The word last week was that the route had initially been established with only one ladder… but without a doubt we went up and over at least fifteen ladders to the halfway mark. The glacier is on the move, with the route consequently changing a little every day. We had a quick snack in the morning shadows at the "Dum" short for the "gear dump" which used to be a halfway camp and or gear staging area in the mid point of the Icefall. Then it was down… carefully, since every cramponed boot needed to be placed exactly to avoid drop offs and crevasses. We did quick arm rappels down one little ice wall after another until we were able to get down below the first ladders and out of the zone where we were endangered by ice over our heads and voids under our feet. Life got better then. We were back to Basecamp for lunch and afternoon naps.
In the afternoon, the sky clouded up and it appeared to be snowing on the upper halves of all the big peaks. At three I went to the first meeting of team leaders. It was something of a reunion since everybody there was an Everest repeat offender. We tried to hammer out a few details about radio frequencies and placements for rescue gear, among other things.
It turned into a good afternoon for hiding in tents, but that was fine. We did good outside work in the morning.
Best Regards,
RMI Guide Dave Hahn
On The Map
×
Sign Up For Everest 2013 Emails
{/exp:mailinglist:form}
---
More to Explore
Mt. Everest: Mark Tucker Joins Team at Basecamp
April 13, 2013
Mountaineering Training | Fit To Climb: Week 11
April 15, 2013