---
Denali - West Buttress Expedition
Mt. McKinley Expedition: Beren & Team Camp at Ski Hill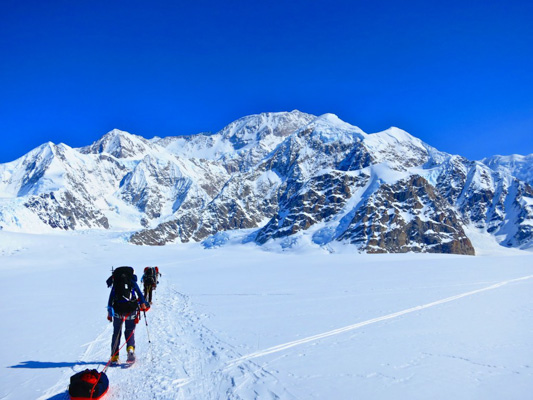 Friday, June 7, 2013
Happy 100 Year Anniversary of the first ascent of Denali to all our friends in the lowlands! We celebrated the occasion by leaving Basecamp for our first camp at the base of Ski Hill. On our way we ran into RMI Team 3 with Brent, Leah and Logan, fresh (generous term) from the summit. A big congratulations for a job well done.
We travelled early this morning, making use of the cooler temps to stay on the surface of the snow instead of post holing our way into utter frustration. Our way to camp was smooth and we can only hope the melting snow doesn't disappear too fast so that we can make our way out of here in a few weeks. I'm sure it will work out just fine.
We plan on calling it early tonight and carrying higher early tomorrow morning while it's still cold and then we can soak up the heat in the afternoon. The team is off to a great start, climbing strong and happy to be on the mountain.
RMI Guide Jake Beren & Team
On The Map
×
Sign Up For Mount McKinley 2013 Emails
{/exp:mailinglist:form}
---
More Updates
Previous
May 22, 2013
Denali - West Buttress Expedition
Next
June 8, 2013
Four Day Summit Climb