---
Denali - West Buttress Expedition
Mt. McKinley: Team Beren Enjoys Rest Day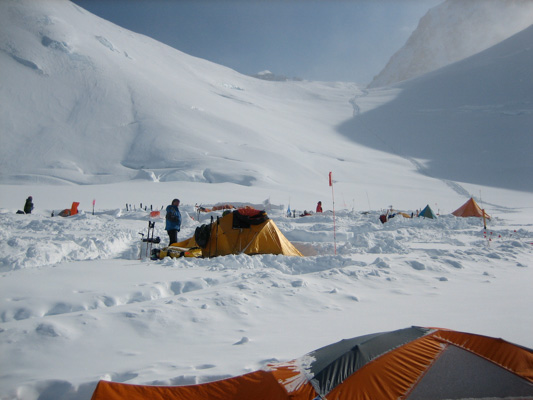 Monday, June 10, 2013
It did snow a little bit last night and the cold wind this morning made a camp day a welcome change of pace for this team. We are climbing very well so far, and I'm sure everyone would've done just fine continuing higher this morning. Patience on the big mountain is key, and the recovery day will only make us stronger for the future as we acclimatize and settle in to camp life.
After a big breakfast we reviewed some cramponing techniques and ice axe usage. After our mid-morning relaxation session we are going to have a potluck lunch and move to a little rope work and cache digging before dinner. Tomorrow if the weather is workable we will carry towards 14,000' Camp and get a little taste of some real altitude. Everyone sends their best to family and friends back home.
Over and out,
RMI Guide Jake Beren
On The Map
×
Sign Up For Mount McKinley 2013 Emails
{/exp:mailinglist:form}
---
More Updates
Previous
June 10, 2013
Four Day Summit Climb
Next
May 29, 2013
Denali - West Buttress Expedition