---
Mt. McKinley: Jones and Team Continue Rest at 14,000'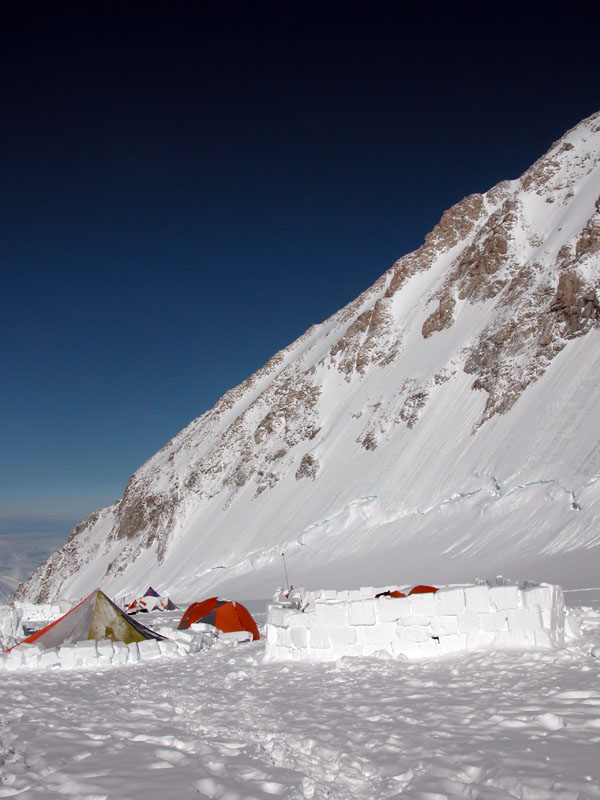 Monday, June 10, 2013
A windy and cold night was greeted by more wind. For our team this is no issue, as we had planned this second consecutive rest day. This will be just the ticket for a more acclimatized and rested body that we will need for summit success.
The menu for this morning was supreme. Round upon round of bagels with cream cheese topped with bacon along with hash browns covered in cheese took us once again well past noon to complete.
The places we travel in the mountains can lead one to believe we are Martians, ready to launch onto to another planet - and that is exactly what we are doing. We push ourselves both mentally and physically, taking our personal learning and discovery to a higher level. When we return from these Martian lands, after having come face to face with deep personal truths and surpassing previously held limitations…we bring a richer and more rounded person home, someone who understands more about the nature of teamwork, sacrifice, and awareness. We thank you all for the support and the opportunity to let us dig deep and take on a new understanding of our passions!
The afternoon has more smelly tent time spent pounding water, fussing over who is the best celeb of all time and growing hairier by the day! The forecast is looking to set up nicely over the next few days and we hope to move to our high camp tomorrow. Till then keep the vibe high for our push!
RMI Guides Tyler Jones, Garrett Stevens and the crew
On The Map
×
Sign Up For Denali 2013 Emails
{/exp:mailinglist:form}
---
More to Explore
Mt. McKinley: Team Beren Enjoys Rest Day
June 10, 2013