---
Denali - West Buttress Expedition
Mt. McKinley: Haugen's Team Caches Supplies and Returns to Camp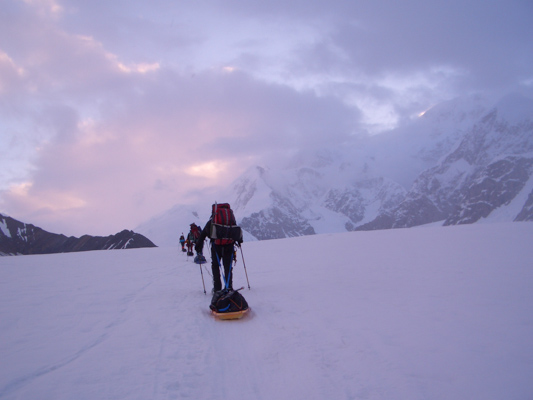 Saturday, June 15th, 2013
After another early start, we made our way up to 10,000 feet and cached some of the food, fuel, and gear that we will not need until later. We started walking uphill around 4 a.m. this morning because even though we are camping and traveling on ice and snow, it can be quite hot with the sun beating down and reflecting upon us. We returned to camp just after 11 a.m. Katie and Uchal made some delicious breakfast burritos before we all turned in for our afternoon naps. Don't judge, we worked hard!
The plan for tomorrow is to pack up camp early and head towards our next spot at around 9,600 feet. The mountain is pretty quiet since there are not many teams flying on the mountain right now.
Everyone is happy and healthy. Yvonne, Peter wanted me to let you know he is especially happy and healthy!
P.S. Congratulations to Tyler Jones and team for their summit!
On The Map
×
Sign Up For Mount McKinley 2013 Emails
{/exp:mailinglist:form}
---
More Updates
Previous
May 29, 2013
Denali - West Buttress Expedition
Next
June 6, 2013
Denali - West Buttress Expedition
Mt. McKinley: Beren & Team Travel the Fixed Lines to Washburn's Thumb