---
Mt. McKinley: Jones & Team on the Summit!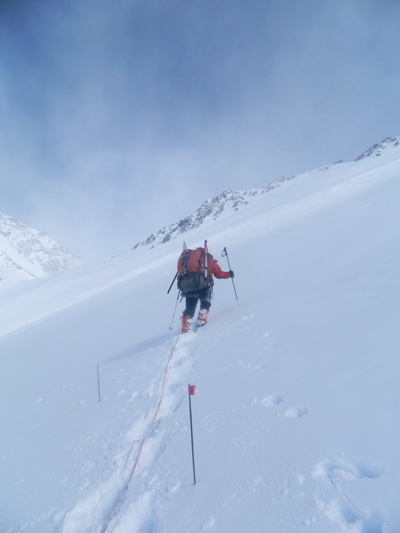 Saturday, June 15th, 2013
Today was a busy day at the roof of North America! Our team was first out of the gates from 17,200' camp, with a warm, windless departure at 8:00am. The first stretch of the route above camp is also one of the most technical and time consuming; it's called the "Autobahn" and takes a strong, committed team to single push across the steeply rising traverse to Denali Pass.
Our group crushed it, and we were enjoying the sun on the east side of the pass soon enough. The next few stretches went by relatively quickly, although nothing is lightning fast at 19,000'. By the time we reached the Football Field, a flat saddle just below the summit ridge, we were down to base layers and light gloves. Considering the fierce reputation that Denali has for arctic temperatures and raging wind, we consider ourselves incredibly lucky to have had a such an incredible day.
The last climb up Pig Hill was taxing our legs and our lungs, and just when folks had had enough we reached the final summit ridge. Forty minutes later, our team put the highest point of the continent under their crampons, amid much hugging and celebration.
The trip back down was uneventful, albeit hot. The sun roasted our tired crew all the way back to camp. But as soon as we got back, folks were out of boots and into tents, resting and relaxing as we brought hot water and heaping helpings of ramen with bacon and chicken. We're ready for the long trip back to base camp, but that's for another day. Right now, we're savoring the day's events and getting ready for some well earned sleep. Thanks again and we'll check back in soon!

RMI Guide Tyler Jones and the team from the Mount McKinley summit!
On The Map
×
Sign Up For Denali 2013 Emails
{/exp:mailinglist:form}
---
More to Explore