---
Mt. McKinley: Van Deventer & Team Settle into 11K Camp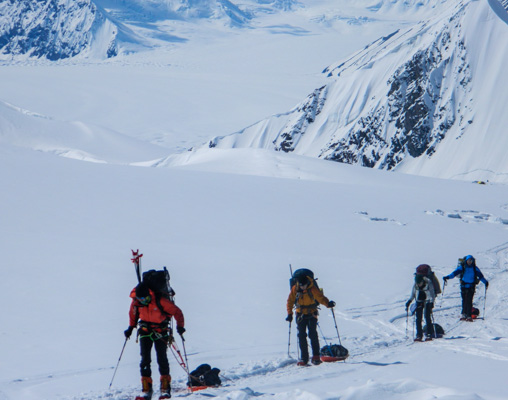 Sunday, June 23rd, 2013
Hello all,
We're checking in from 11k! We woke at a more reasonable hour this morning to a centimeter or so of new snow, and crystal blue skies. There was nothing to do but eat a big breakfast, crash our camp, and bounce to 11,000 feet. Just over two hours later we rolled into camp, psyched to finally be setting up shop for a few days. We dug a big kitchen, got the tents all bomb proof, and enjoyed an afternoon lounging in (or hiding from) the sun. With a full rest day tomorrow, it was a relaxed evening, and we spectated as the rangers skied a few laps above camp. The group's competitive personalities are coming out, and tomorrow we have scheduled a competitive napping event. We'll let you know who the winners are!
Until then,
Happily resting at 11k.
RMI Guides Pete, Geoff, Robby, et al.
On The Map
×
Sign Up For Denali 2013 Emails
{/exp:mailinglist:form}
---
More to Explore
Mt. McKinley: Haugen & Team Rest Day at 14K Camp
June 23, 2013