---
Everest Base Camp Trek: Team Arrives in Namche Bazaar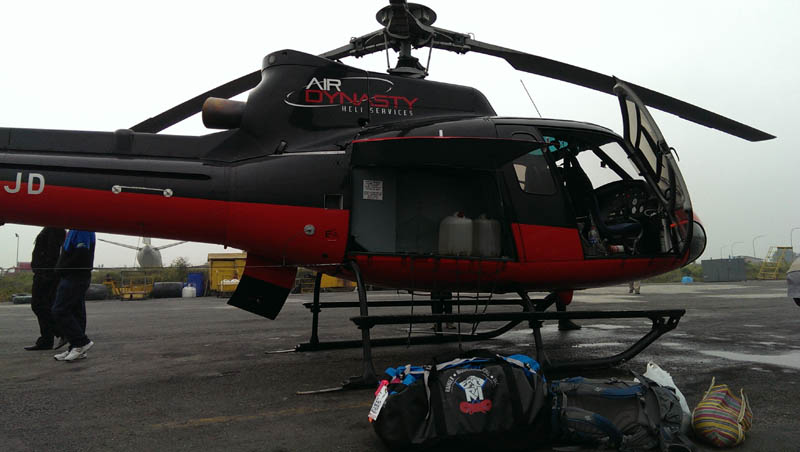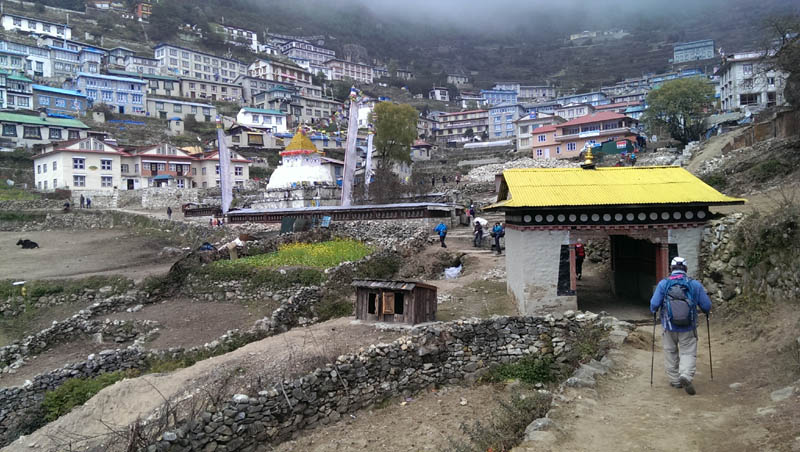 "Tashi Dele" from Namche Bazaar!
What a lucky team we are! Scheduled to fly yesterday into Lukla, the morning greeted us in Kathmandu with cloudy skies, grounding the little aircrafts that are meant to bring climbers and trekkers alike to the Khumbu.
After a long hour of uncertainty, (and with the news that Lukla was also shutting down,) we relied on our trustworthy outfitter personnel at the airport; Sagar and Shangkar pulled some magic and about an hour and a half later, we were boarding… a helicopter! This safer vehicle under such conditions, provided us with awesome views of Everest and Nuptse as we approached Lukla above the clouds and we continued to give high fives in disbelief of what we were experiencing.
Soon after we met our Sherpa Nawang and porters at Lukla, we headed for Phakding, where we'd spend our first night at a Sherpa lodge. Continuing today with astonishing views along the lower valleys, we proceeded towards Namche, from where we are writing now as we enjoy a cup of milk tea.
The biggest excitement of the day was provided by the many hanging bridges, the last of which is a new addition to the trail since last season and sits some 300 feett above the river! As the mystique of the Buddhist populated land embraced us, we enjoyed the great hiking trails ornamented with centennial Mani stones and prayer flags.
Upon arrival, we enjoyed a hardy dinner at "Camp de Base Lodge" and we're now ready for a well earned rest. Tomorrow we'll meander in Namche optimizing our acclimating process with hopes of taking some sunrise pictures over Ama Dablam, weather permitting.
Best regards from Nepal,
RMI Guide Elías de Andrés Martos
On The Map
×
Sign Up For Everest BC Trek 2013 Emails
{/exp:mailinglist:form}
---
More to Explore
Everest Base Camp Trek: Team Checks in From Namche Bazaar
November 2, 2013
Mountaineering Training | Strength Training Beyond The Gym
November 4, 2013