---
Life at The Creek: RMI guides check in from Indian Creek, UT
October marks the end of the guiding season on Rainier, and the beginning of some of the best rock climbing weather and conditions throughout the Rocky Mountain West. RMI guides Steve Gately, Robby Young and Sean Collon celebrated "Rocktober" this year by spending their time down in Indian Creek near Moab, Utah. "The Creek" is home to some of the best pure crack climbing in the world, with fissures ranging from too small for fingers up to chimneys large enough for your entire body; running a hundred feet up otherwise featureless sandstone walls. It attracts climbers from around the world and is a popular hangout for guides in the October off-season. Sean, Steve and Robby documented their time in The Creek through film, and recount their experiences:
Robby Young: There is no place like Indian Creek. The abundance of stunning cracks splitting through vertical sandstone walls appear otherworldly amongst the beautiful desert landscape of Southern Utah, located just a few hours from my home in Park City, UT. I was very excited to have the opportunity to spend some time in this wonderful place with some good friends, and fellow RMI guides. The vibrancy of the red rock offers a dramatic contrast to the snow and glacier covered landscape of Mt. Rainier in which we spend much of our summer. I was also lucky to be able shoot photographs and capture film of some of friends as they pushed their climbing skills in the never-ending pursuit to become better climbers and alpinists.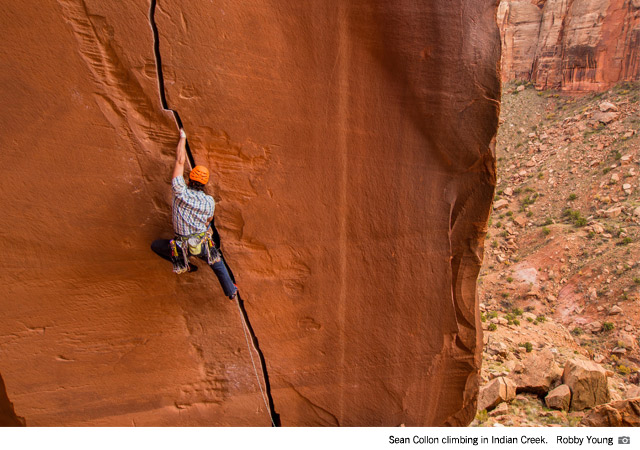 Sean Collon: Rock climbing and mountaineering have a large number of common skills, techniques and physical requirements. Approaching rock climbs with heavy packs full of gear builds stamina, and the climbing itself requires total body strength; all of which contributes to success in the big mountains. When guiding, or on personal mountaineering trips, I rely heavily on the rope skills I have developed largely in the vertical world of rock climbing. But more than all of this, rock climbing, in and of itself, is fun. Like any type of climbing, it is physically and mentally demanding. It can be pure enjoyment, often scary and painful, but always tremendously rewarding.
Steve Gately: After a busy Rainier season, trips like this provide us with some welcomed vacation time, while also allowing us a great opportunity for continued training. With back-to-back trips to Aconcagua coming up this winter, keeping my skills sharp is important to me. One aspect that goes consistently overlooked is not only the mental capacity but also the situational awareness needed for such long expeditions. For me, rock climbing is a way to keep my assessment skills sharp. There is some inherent risk in rock climbing, similarly to anytime that we step out into the mountains. This requires you to be constantly assessing situations, risk, hazards, terrain etc. This level of awareness is invaluable. You can be as strong as the best climbers out there, but without that ability to constantly assess your surroundings and problem solve when needed, well, you won't last very long in the mountains. For me, as a guide, this is one of the most important contributions I can bring to my trips and rock climbing provides an excellent way to stay strong, keep my skills sharp, and have a ton of fun while doing it!
______
Robby Young is as talented on rock as he is on glaciers and skis. He is spending the winter ski patrolling and teaching several avalanche courses in Utah and planning on a ski trip to Iceland this spring before his Denali expedition. See more of Robby's photography at www.robbyyoungphotography.com.
Sean Collon is an RMI guide, originally from Michigan, spending this winter season in Utah ski instructing at Canyons Resort and training for the AMGA Rock and Ski Instructor Courses. He has climbed rock and alpine routes all around the Pacific Northwest and throughout the country, and guiding with Dave Hahn next summer on Mt. McKinley.
Steve Gately is heading to the southern hemisphere this winter to guide on Aconcagua. Returning to Park City, UT, he will be found skiing, ice climbing and working on another short film about backcountry skiing in Utah's Wasatch Range before heading north to Alaska next summer.
---
More to Explore
Vinson Massif Expedition: Top of the Ropes Carry
December 4, 2013
December 5, 2013