---
Mt. Rainier: The Winter Seminar Tries for the Summit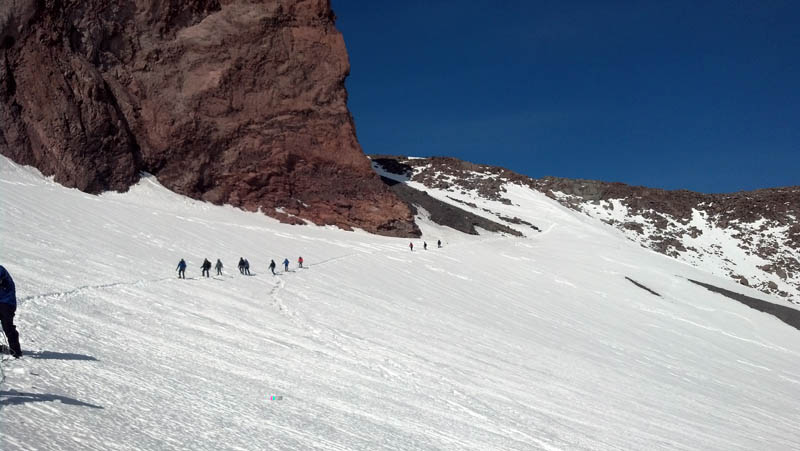 We left Camp Muir this morning at 4: There was a cap over the summit from the outset of our climb but we were thankful the winds from yesterday evening had abated and hoped the cap would follow suit.45 a.m. in reasonable winds. The team took to heart the lessons learned at yesterday's climbing school and climbed strong on the upper mountain in deteriorating conditions.

I began the route finding effort up the Ingraham Direct but gave way to RMI Guide Zeb Blais as he led the team up to a break at 12,800'. As we switchbacked our way up the mountain, we encountered increasing wind speeds and steadily decreasing visibility. We made the smart and safe choice to call 13,400' our high point for the day. On our descent to Camp Muir, clouds would billow up from below causing white out conditions followed by periods of visibility. This process repeated continually until we returned to Camp Muir.
We're back at Camp Muir safe and sound. We are looking forward to a low-key afternoon at camp with a siesta and some easy training on the schedule.
Signing off for now,
RMI Guide Brent Okita
---
More to Explore
Mt. Everest: Dress Rehearsal through the Khumbu Icefall
April 17, 2014