---
Denali - West Buttress Expedition
Mt. McKinley: Jones and Team Smooth Move to 11,000' Camp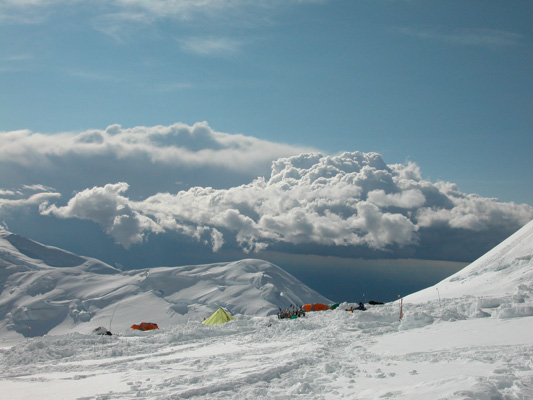 Wednesday, June 4, 2014 4:53 PDT
The morning came with no wind and optimal cool temps for our travels. After an oatmeal breakfast, the team packed for our quickest departure from camp yet. Our crew is strong and made great time during our climb, stopping at our cache to retrieve a handful of items from the surface, adding just a microscopic load for the final push into our new home for the next few days.
We plan to continue to fortify our camp by adding wind walls to our million dollar Posh house! The Posh house will serve as our kitchen,living, and dining room, bringing some comfort from the chill of the evening and protection from the blasting solar energy of the sun.
Currently, we are hiding from the sun's torture and looking forward to a big dinner of tortellini with bacon and sun dried tomatoes. Tonight we will get a long night's rest, and a leisurely breakfast tomorrow will lead us into a short back carry to retrieve the rest of our equipment!
We're keeping our fingers crossed for RMI Guide Brent Okita and his team above us - as of last night's radio check-in, they were planning to go for the top today. If the weather up high is anything like it is at our new camp, they stand a good shot. But for us, the name of the game is rest, recover, and prepare for the work ahead.
Cheers for now,
RMI Guides Tyler Jones, Garrett Stevens, Bryan Hendrick, and team
×
Sign Up For Mount McKinley 2014 Emails
{/exp:mailinglist:form}
---
More Updates
Next
May 20, 2014
Denali - West Buttress Expedition