---
Mt. McKinley: Jones and Rest and Re-Fuel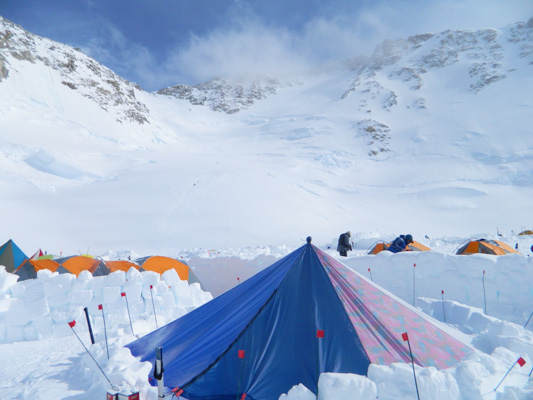 June 13, 2014 3:21pm PT
Denali is a mountain of many moods. Yesterday, as we carried our cache to our highest point yet, she gave us a taste of moderate winds and blowing snow, showing a little irritation. Today, she seems more benign, with light winds, high clouds, and intermittent snow here in camp. The tents are warm and comforting, and we're all enjoying a well earned rest session.
To that end, we started the morning with plenty of hot coffee, endless strips of crispy, delicious bacon, and the Tyler Jones specialty of blueberry pancakes that would give the best griddle cooks a serious run for their money. The perfectly browned hot cakes, the secrets of which TJ learned from his grandpa, just kept coming, and we all ate our fill until we couldn't stuff another one down.
The remainder of the day will be dedicated to recuperation, re-hydration, and maximum relaxation. In fact, the main goal is to move as little as possible and save our energy for the climbing to come. Until then, we'll be standing by, waiting for the best window for our summit push. Thanks for all the positive vibes and keep'em coming!
Cheers for now, check back tomorrow…
Team No Troubles
×
Sign Up For Denali 2014 Emails
{/exp:mailinglist:form}
---
More to Explore