---
Aconcagua: King & Team Reach the Summit!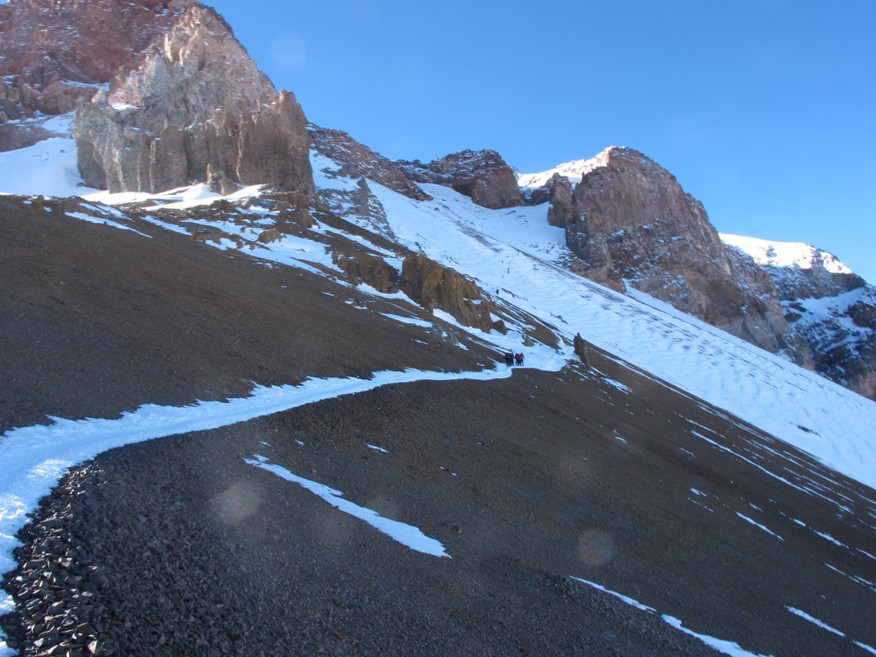 Update from Mike King at 10:30 am PT:
If you haven't listened to my hypoxic voicemail from today, you should know that we stood on top of Aconcagua, 22,841' around 1pm local time. The climbers are back in camp trying to avoid these late afternoon snow/heat waves…ya doesn't sound fun does it? The climb had wind, snow, heat, drifted snow in the trail and lots of other parties attempting the summit. I'll leave the details from the summit day for your loved ones to tell…but the guides are in agreement, one of the harder days we've had in the mountains. Tomorrow we will start our downward retreat to the thick air of base camp.
Summit call transcription:
Hey, this is Mike with the RMI Aconcagua Team. We are standing on top of Aconcagua, the highest mountain outside of the Himalaya. The team did well, we had a really cold morning, probably about 25 mph winds in the face for the first several hours. Now we are sitting up here, we could be in jeans shorts and tank tops. The team did well and we're going to hang out here and take some photos. Then we still have to descend. We will call in or send a dispatch once everyone is safe back at camp. Thanks for following along. Everyone sends their best.

RMI Guide Mike King calls from the summit of Aconcagua.
On The Map
×
Sign Up For Aconcagua 2018 Emails
{/exp:mailinglist:form}
---
More to Explore
Kilimanjaro: Grom & Team Conquer the Barranco Wall
January 12, 2018
Ecuador Seminar: Adam Knoff Wraps Up Their Chimborazo Summit Day
January 12, 2018