---
Kilimanjaro: Grom & Team Conquer the Barranco Wall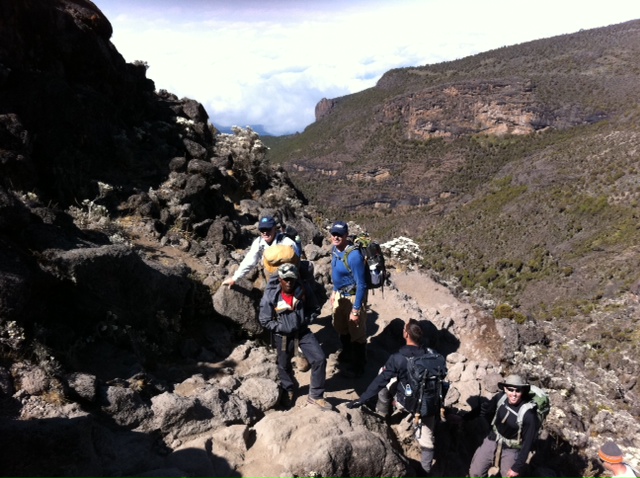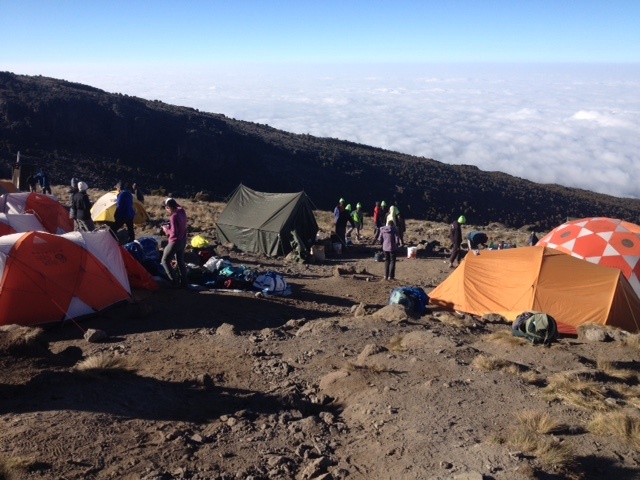 Hello, everybody. This is Casey Grom checking in from the Kilimanjaro Expedition. It is day four and finally we woke to a little bit of nice weather. There was a little bit of sunshine and some broken clouds. Before the clouds came back in, we finished our little camp luckily without having to wear Gore-tex today. That was super exciting for everybody. Today our first obstacle, which was the technical crux of this whole climb is the Barranco Wall and it was only about 20 minutes outside of camp where we start the ascent up the 1,000-foot rock wall. Luckily for us and everybody else, it is a nice broken pitch system that meanders and weaves it's way up this wall. It's still trekking but in a few places where we got to use our hands and baby steps through the trail. Today is a reasonably short day, only about four hours on the trail before we pulled into camp, which was once again fully set up and waiting on us. So we're being spoiled here by our staff and and taken well care of. Currently the sky has cleared and I am looking up and seeing stars in all directions, so fingers crossed that it will stay this way and we have full sun tomorrow. On another note, we got to celebrate one of our team member's birthdays up here. Happy birthday Scott! Everybody's in good spirits and looking forward to moving up to high camp tomorrow. That's all for tonight, and I will check in again tomorrow when we reach our high camp. Thanks a lot.

RMI Guide Casey Grom calls in from Karanga Camp on Kilimanjaro.
On The Map
×
Sign Up For Kilimanjaro 2018 Emails
---
More to Explore
Aconcagua: King & Team Move to High Camp
January 11, 2018
Aconcagua: King & Team Reach the Summit!
January 12, 2018