---
Denali Expedition: Van Deventer & Team View Winds Moving Up HIgh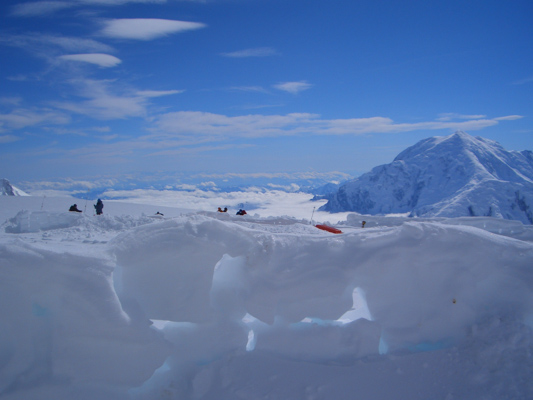 The winds up high were moving.
Snow trails off the mountain into the air.
We're snug and cozy at 14K with plenty of food and fuel,
So we sit and watch the tails of a mare.
This small verse sums up our day. We looked up, saw winds moving snow around up high, and decided to do the prudent thing and sit tight at 14K Camp. We're ready to crack when conditions line up, but until then, some igloo building, heads up, and sunbathing are plenty to keep us happy and occupied.
RMI Guides Pete Van Deventer, Jess Matthews, Taylor Bickford and team
On The Map
×
Sign Up For Denali 2018 Emails
{/exp:mailinglist:form}
---
More to Explore
Mt. Rainier: Summit Climb Teams On Top
June 5, 2018