Posted by: Casey Grom | July 22, 2015
Categories: *Expedition Dispatches *Kilimanjaro
Hello once again everyone -
This was a marvelous day as we visited the famous Ngorongoro Crater, considered by some to be the 8th wonder of the world. We started early with hopes of catching more of the elusive wildlife.
Today we saw more zebras, Cape buffalo, wildebeest, giraffes than anyone expected, in fact at such close range that we could almost touch them. We also saw plenty of hyenas, ostrich, Impala and saw a few lions, hippos, elephants, and even managed to spot a couple of Rhinos off in the distance. Needless to say it was a wonderful day of well deserved safari.
We then wrapped up the day with a visit to a working Maasai village. The Maasai are the local nomadic people that have inhabited this area for more than a thousand years and still try to exist with their same way of life.
Finally we returned to the amazing Plantation lodge to relax and enjoy another wonderful meal.
All is well!
RMI Guide Casey Grom and crew
---
Posted by: Billy Nugent, Solveig Waterfall, Mike Walter | July 22, 2015
Categories: *Expedition Dispatches *Mount Rainier
Elevation: 14,410'
The Four and Five Day Summit climb teams led by RMI Guides Mike Walter and Solveig Waterfall reached the summit of Mt. Rainier early this morning via the Disappointment Cleaver route. Mike reported great climbing, light winds and mild temperatures with a few clouds at around 6,500'.
RMI Guide Billy Nugent and his Expedition Skills Seminar - Kautz team climbed via the Kautz route and successfully reached the summit of Mt. Rainier in time to watch the sunset. The team will be finishing up their training today and be back at RMI Basecamp later this afternoon.
Congratulations to today's teams!
---
Posted by: Robby Young, Steve Gately | July 21, 2015
Categories: *Guide News
This spring, while another hot and dry winter in Utah began to wind to a close, my friend, and fellow RMI Guide, Steve Gately and I were desperate to find a real winter. The island country of Iceland, once an isolated and expensive island destination to visit, has made a big effort to attract foreign tourists, since the 2008 collapse of their economy, by subsidizing direct flights from Europe and N. America. Lucky for us skiers, this presented an opportunity to explore and ski the volcanic peaks and fjords that Iceland harbors amongst its wild and otherworldly landscape.
It being both of our first time to the island, Steve and I made our goal to ski as many of the coastal mountain ranges as we could. Arriving in the city of Reykjavik after a red-eye flight, we spent that first day battling heavy eyelids, touring the walkable capital city, sampling the wide array of fresh seafood and local brews, and beginning our feeble attempt to learn a few Icelandic phrases to help get us by for the next two weeks. "Tveir bjora, takk", meaning, "two more beers, thank you", was the only phrase we could retain well enough to use during that first day.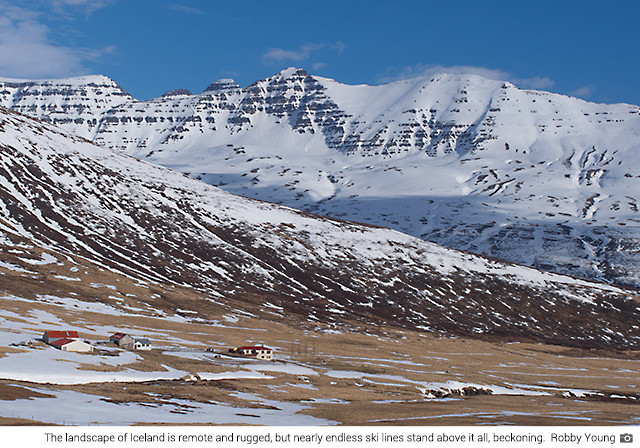 Car rentals are notoriously expensive, but we found a deal on an old Toyota Rav4 with decent tires that seemed to be held together well enough for half the price, and we were off. We drove the length of the main highway on the south side of the island, also known as the Ring Road, passing by the active and massively glaciated volcanoes along the southern coastline. Finally reaching the Eastfjords, we were a bit discouraged by the high snow levels in these broad fjords, but found charm and beauty in the tiny and isolated fishing villages. We spent a couple days skiing spring "corn" snow as it slowly softened with the warmth of the low angled sun of the springtime. An experience of a lifetime, the clear nighttime skies lit up with the Northern Lights like we could have never imagined. Domes of vibrant green and purple rocketed over our heads while we camped in the empty Neskaupstadur town campground, taking in the show in awe.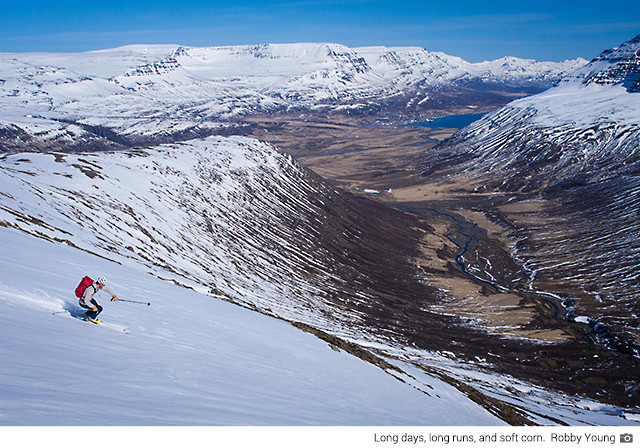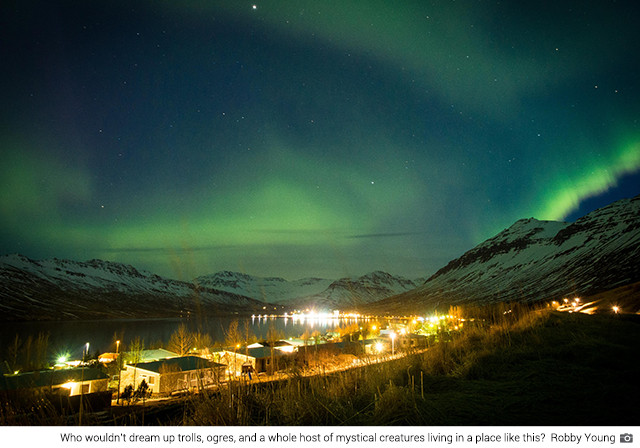 Moving northward and then west, we drove across the volcanically active rift valley where the Earth's crust was being created in real time, creating hundreds of miniature volcanoes, steam vents, and rugged lava fields. Eventually, we reached the Troll Peninsula, the skiing mecca of Iceland. In recent years, the "Troll" has increased in popularity with skiers through recent ski films and the presence of Arctic Heli Skiing. The popularity of this place was well justified; we found some of the best spring corn skiing we'd ever experienced, with the Arctic Ocean serving as our backdrop. The aesthetics and quality of skiing was only matched by the hospitality of the people we met in the small village of Dalvik. Our days here were spent skiing while evenings were filled mingling with locals and tourist skiers alike on the front steps of the local Kaffihaus (Coffeehouse), which doubled as a pub in the later hours of the evening. As with many of the small communities in Iceland, the owners of our hostel also ran this Kaffihaus, serving their own fish stew from their friends' fishing boats, and serving beer brewed a couple doors down the street.
Traveling onward, we drove the barren and isolated roads from Dalvik to the northwest corner of the island: a series of peninsulas collectively referred to as the Westfjords. We hunkered down in the town of Isafjordur, surrounded by hundreds of steep ski runs that plummet to the ocean, as the snow began to fall. We spent the next six days drinking coffee, while the snow pounded down outside, immediately jumping in the car as soon as the sun made one of a few brief appearances. In a neighboring fjord near the village of Flateyri, we found the siren that had drawn us to Iceland: a beautiful fjord that held the deepest and driest powder of the trip; a long series of steep chutes looming above the ocean. After a winter of scraping and scratching by in Utah, this mythical run made our ski season whole!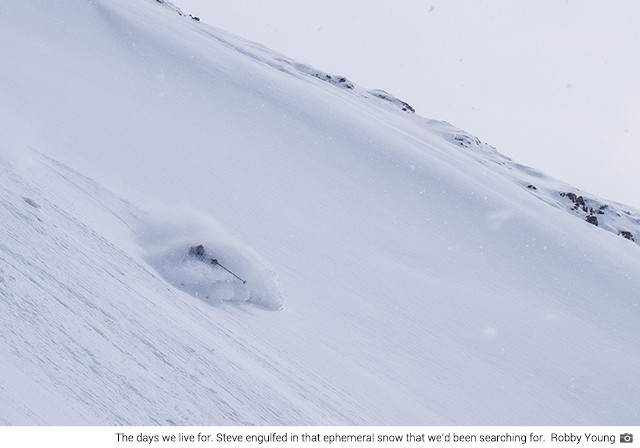 During these rare moments of sun the formula looked something like: drive around the fjords looking for ski runs (the best were steep rock-lined couloirs), climb up, ski right back down to the car, manage to drive our manual transmission Rav4 in ski boots to another ski run, and repeat.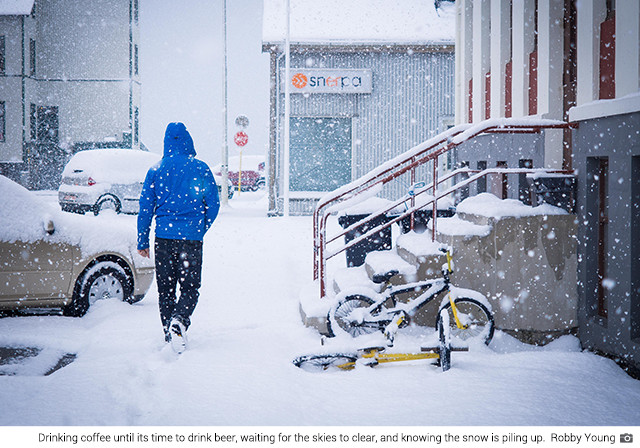 The snow in the Westfjords did not let up for days, even as our time to return to Reykjavik approached. The most hair-raising adventure of the trip was driving the fjords and passes back to civilization in southern Iceland. Over one particular pass, we had to put our rental to the test, busting through snowdrifts until we found a lineup of cars waiting to follow a supersized snowplow the rest of the way back to the main highway. Back in the capital, Steve and I celebrated the end of our trip just like we did at the start; enjoying the fresh fish and brews of Reykjavik, knowing that we had only scratched the surface of the skiing that this country has to offer.
_____

Robby Young is a senior guide at RMI Expeditions, leading trips in Washington, Alaska, and Peru. Robby calls Park City, UT home, where he is a ski patroller at the Canyons Resort. When not guiding, Robby is found chasing splitter crack climbing and perfect powder around the globe. He is also a talented photographer: view his images at www.robbyyoungphotography.com.
---
Posted by: Elias de Andres Martos | July 21, 2015
Categories: *Expedition Dispatches *Peru
Elevation: 17,880'
Hello, this is Elías and the Alpamayo team calling again from High Camp. Today, at the base of the Alpamayo Head Wall, we are taking a rest day, as we'd let you know yesterday. The weather looks really good, we are in good spirits and health, and we're just relaxing and waiting for our summit push tonight. So tomorrow, this time, check in, and hopefully we will have a summit report from you. Otherwise, stay tuned until then, and best regards to everybody back home. Bye.
RMI Guide Elías de Andres Martos

RMI Guide Elias de Andres Martos checks in from High Camp on Alpamayo.
---
Posted by: Casey Grom | July 21, 2015
Categories: *Expedition Dispatches *Kilimanjaro
Today was our first day of safari and we headed to Lake Manyara National Park. It took a little over 2hrs to get there as we drove through Arusha and then the vast rural savannah to get there. It's situated at the base of the eastern Great Rift Escarpment, and is home the the famous tree climbing lions, over 450 different birds, huge troops of baboons, hippos, and most of the other African animals.
It's been rather dry this year and unfortunately we didn't see the famous lions, but we did see plenty of other wildlife up close.
After spending a couple of hours of safari we made our way to the wonderful Plantation Lodge where we've been enjoying being spoiled and just finished another fantastic meal.
Everyone is doing great and are excited to see what tomorrow brings as we head to Ngorongoro Crater.
RMI Guide Casey Grom and crew
---
Posted by: JJ Justman | July 21, 2015
Categories: *Expedition Dispatches *Elbrus Southside
Hello from St. Petersburg!! Today our team had an incredible tour of some of the beautiful sights of the city. No doubt it is the perfect way to end a great adventure here in Russia. We visited several cathedrals as well as The Hermitage, which holds some of the greatest art pieces in the World! Enjoy the video below but to be honest…it doesn't do it justice. You have to see it for yourself!!
Also stay tuned for Part Two…the team will be taking a boat tour of the gorgeous canal systems that makes St. Petersburg known as "The Venice of The North".
---
Posted by: Mike Haugen, Steve Gately, Bryan Mazaika | July 21, 2015
Categories: *Expedition Dispatches *Mount Rainier
Elevation: 14,410'
RMI Guide Mike Haugen and the Four Day Summit Climb team reached the crater rim of Mt. Rainier shortly after 7 am. Mike reported good conditions with a sustained 20 mph wind.
The team will enjoy some time on the summit before starting their descent. They will return to Camp Muir and then continue to Paradise. We look forward to seeing the team at Rainier BaseCamp this afternoon.
Congratulations to today's Summit Climb team!
---
Posted by: Elias de Andres Martos | July 20, 2015
Categories: *Expedition Dispatches *Peru
Elevation: 17,880'
Hello, this is RMI Guide Elias Andres and the Alpamayo team, along with local guide, Peter. We are currently at high camp on Alpamayo at 5,400 meters. The team crushed it. We came up here in a mere four hours overcoming some steep terrain, but it was not difficult for anybody. We are currently setting up camp. Everyone will be chill tomorrow. We are going to take advantage of the elevation to continue to acclimatize for the summit bid and let a couple of teams that arrived here ahead of us climb the mountain so we have the route to ourselves. We'll keep you posted tomorrow. Stay tuned at this time and we will let you know how we are doing, which is presumably very, very well. Hopefully in 48 hours you will have a summit report. That's it for now.
RMI Guide Elias de Andres Martos

RMI Guide Elias de Andres Martos calls in from Alpamayo High Camp.
---
Posted by: Casey Grom | July 20, 2015
Categories: *Expedition Dispatches *Kilimanjaro
Congrats to this team!
It was a fantastic climb of Kilimanjaro yesterday and everyone did great and it was wonderful to be on top with the whole team.
It took us a little more than seven hours to reach the summit. The sky was full of stars and the weather was nice, although it was a little cold on that last stretch I have to admit.
After spending about 20 minutes on top and getting plenty of summit photos, we made our way quickly back to camp where brunch was waiting and then descended all the way to our last camp. It was a long, but rewarding day for everyone.
This morning we had a quick breakfast and got packed up one last time, then our wonderful staff gathered to bid us farewell and sang a few traditional Kilimanjaro songs.
We are currently relaxing back at our lodge where everyone has enjoyed hot showers and a delicious celebration meal.
It's time for a little sleep before we head out on a much deserved safari!
RMI Guide Casey Grom and crew
---
Posted by: JJ Justman | July 20, 2015
Categories: *Expedition Dispatches *Elbrus Southside
Team Russia has arrived in St. Petersburg! It is so nice and a little sad to leave the mountains behind. However, now in this beautiful city the team is invigorated to enjoy our safe and successful adventure on Mount Elbrus.
We had a long day of traveling to get here so we are just going to soak it in before tomorrow's adventure…what's that you may ask? Check in tomorrow and find out!!
---
Previous Page
More Entries