Entries By robby young
Posted by: Zeb Blais, Robby Young | November 16, 2014
Categories: *Expedition Dispatches *Mexico
After a delicious breakfast at Dr Reye's historic soap factory bed and breakfast, our team is on our way home.
A little more on the Orizaba climb:
We arrived at the Piedra Grande Hut on Friday afternoon. After a brief walk to help our bodies get used to the thin air, we settled into camp. Robby and I cooked the best chicken tacos Orizaba has ever seen. Fresh tortillas, guacamole, sautéed onions and peppers, rotisserie chicken and limes made for a great pre-climb feast. After the taco feed, we tucked into our tents for a few hours of sleep.
When we woke, the thick cloud that had engulfed camp before bed had cleared. It was a beautiful night without even a breath of wind.
We climbed through a maze of rock known as the Labrynth to the Jamapa Glacier. At over 16,000' we donned crampons and ice axes and roped together to work towards Orizaba's stunning summit crater.
Rest stepping, crampon technique and pressure breathing were the cornerstones of success as our team made switchbacks across the peaks northeast face. Our entire team climbed well until we were on the summit celebrating a hard fought ascent.
We enjoyed perfect, warm weather on top. After we had captured some photos and soaked in the amazing view, it was time to tackle the other half of the climb : the descent.
In keeping with the style they showed on the ascent, the team descended with great form and attention to footwork. Without a hitch, our team made it back to Piedra Grande.
A few hours of packing and 4x4 riding led us to a tasty meal and celebration at the Reyes soap factory. Sharing stories and jokes with the team was a terrific way to end a great climb and a rewarding trip.
Thanks to everyone on the team for their huge efforts and great attitudes!
Until the next climb ~
RMI Guides Zeb Blais & Robby Young
---
Posted by: Zeb Blais, Robby Young | November 15, 2014
Categories: *Expedition Dispatches *Mexico
Elevation: 18,701'
All members of our team made it to the highest point in Mexico this morning- el Pico de Orizaba! We lucked out with perfect weather and great snow conditions. Warm temperatures and great views coaxed us into spending a good chunk of time on the summit . We'll follow up soon.
RMI Guides Zeb Blais, Robby Young and team
On The Map
---
Posted by: Zeb Blais, Robby Young | November 14, 2014
Categories: *Expedition Dispatches *Mexico
Our team sorted our gear in Tlachichuca and is ready to tackle Orizaba tonight. We've loaded up the 4x4 and are on our way up to Piedra grande.
We'll check in upon return to Tlachichuca tomorrow.
Cheers,
RMI Guide Zeb Blais & Team
---
Posted by: Zeb Blais, Robby Young | November 13, 2014
Categories: *Expedition Dispatches *Mexico
Checking in after a nice breakfast at Hotel Colonial in downtown Puebla.
Last night we arrived in Puebla tuckered out from a long day of climbing. We celebrated the exciting climb with a nice meal at La Compania and a full night of sleep- Woot woot!
Today is a 'choose your own adventure' day for the team, with many people exploring the Great Pyramid of Cholula and historic Puebla.
Tomorrow we'll be back on the road headed for Pico de Orizaba.
Cheers from a well rested team~
RMI Guides Zeb Blais, Robby Young & company
---
Posted by: Zeb Blais, Robby Young | November 12, 2014
Categories: *Expedition Dispatches *Mexico
Elevation: 17,340'
Our team woke to less than ideal conditions at our high camp on Ixta this morning. Dense clouds, wind and light precipitation looked like it might thwart our summit bid. We waited as long as we could with the time we had for the summit, then it was decision time. The precipitation had stopped but wind and thick clouds remained.
The guide team made the call to begin the climb and see how the weather would pan out. The wind and cloud remained, but our team tougher it out and the weather didn't get worse .
After a hard fought summit, our team is on our way to a well deserved rest day in Puebla.
RMI Guides Zeb Blais, Robby Young and team
On The Map
---
Posted by: Zeb Blais, Robby Young | November 11, 2014
Categories: *Expedition Dispatches *Mexico
A sunny morning greeted us on our way to high camp on Ixta today. We have our fingers crossed that the weather holds for our summit bid tomorrow morning .
The team is packed up and fired up to climb - Wish us luck!
RMI Guides Zeb, Robby and team
---
Posted by: Zeb Blais, Robby Young | November 10, 2014
Categories: *Expedition Dispatches *Mexico
Elevation: 12,000'
Greetings all!
Following our massive breakfast buffet feast in Tlaxcala this morning, our team began the drive towards Ixta. After a quick food and water refuel in the town of Amecameca, followed by a National Park check in at Paseo de Cortez, we found ourselves at the 12,000' Altzimoni Hut, our home for the evening in preparation of our upcoming two-day climb of Ixta.
In order to continue our process of acclimatization, the team set out for an afternoon hike on the lower slopes of Ixta. After a quick climb to 14,000', we were rewarded with some amazing views of the sunset on Popocatépetl, an active volcano neighboring closely to the south.
The team is winding down for the evening and preparing for a high-altitude taco feast. We're looking forward to the coming climb and physical test on Ixta over the next two days. Thanks for following!!
RMI Guides Zebulon, Robby, and Team
On The Map
---
Posted by: Zeb Blais, Robby Young | November 10, 2014
Categories: *Expedition Dispatches *Mexico
Elevation: 14,636'
Our crew is on our way to a big buffet breakfast and Ixtaccihuatl after our first day in the mountains.
Yesterday's acclimatization hike on La Malinche was a tough introduction to altitude. Dark clouds had gathered at the top as we started and we watched them closely as we pushed up into thinner air. With a short summit window, our entire group pushed hard and worked together to make the top. The weather gods smiled on us and clouds cleared briefly as we scrambled up the last bit of rock to the top.
After a few photos, it was time to get ourselves down to thick air and a warm dinner. La Cabana restaurant set out a generous spread for us and we ended our day with great food and full bellies.
We'll be checking in soon from Ixta.
Cheers from RMI Guides Zeb Blais, Robby Young and the crew!
On The Map
---
Posted by: Robby Young | October 21, 2014
Categories: *Guide News *Guide Grant
As a professional mountain guide, not only does my job involve spending most of my days in the mountains doing what I love, but also includes a substantial amount of continued coursework and education in order to review and enhance my knowledge and skills. This winter, with the help of the First Ascent / RMI Expeditions Guide Grant, I was able to participate in the American Avalanche Institute (AAI) Level 3 Avalanche Course, completing the highest level of avalanche certification in the United States.
The course was held near my home in the Wasatch Mountains of Northern Utah, home of the "Greatest Snow of Earth"; a claim to fame that surely proved true for the duration of the class. Multiple feet of snow fell over the course of the week, resulting in a widespread natural avalanche cycle that provided us with a fantastic setting for learning, while we observed large destructive avalanches in real time.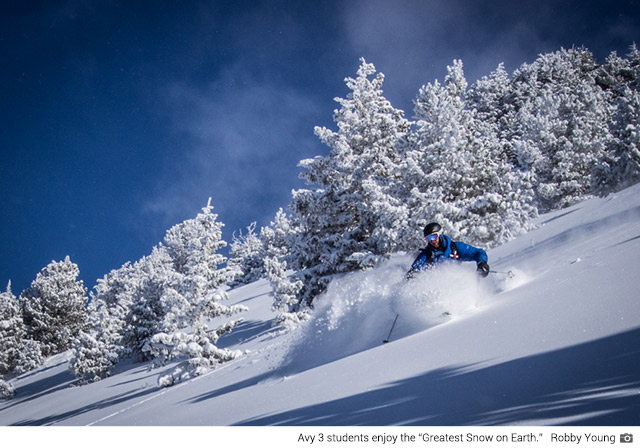 The course covered a wide array of topics important for guiding climbers and skiers in avalanche terrain, including snowpack assessment (through snowpit investigations), advanced backcountry travel, mountain weather forecasting, and professional forecasting applications for recreational guiding operations, ski areas, or highways.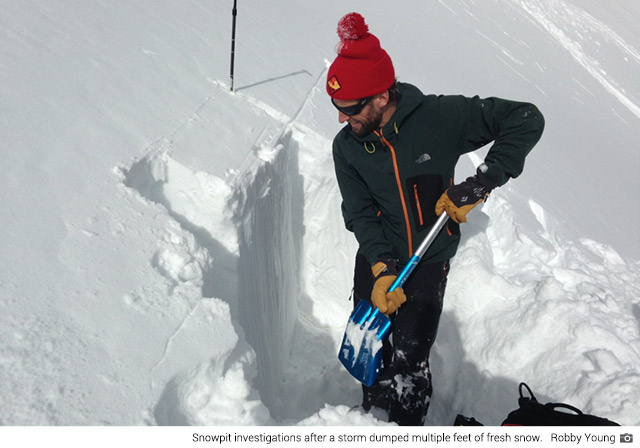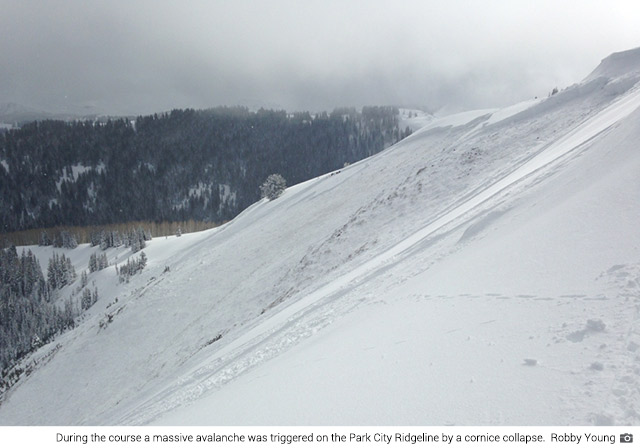 Completing the highest level of avalanche education in the US has been a long-time goal of mine and I felt a great sense of accomplishment in doing so. I look forward to using these skills in guiding future RMI climbers around the world.
_____
Robby Young is a Michigan native, graduate of the University of Michegan (Go Wolverines!), and Utah transplant. Robby guides around the world, from Alaska to Peru, for RMI. In the winter, Robby patrols at The Canyons Resort and calls Park City home. When he isn't wearing a uniform, his feet are in ski boots, chasing steep lines and powder wherever they may be found. Robby will be headed to Mexico later this month, and to Mt. McKinley in May.
---
Posted by: Robby Young, Elias de Andres Martos | July 13, 2014
Categories: *Expedition Dispatches *Peru
Greetings all,
After spending the last 10 days above 14,000', our eyes and lungs relished in the sights, smells, and the oxygen-rich, moist ocean air we encountered on the drive back from Huaraz to Lima. A stop in Playa Barranca for ceviche, tacu-tato, and other local seafood dishes truly brought our expedition full circle as we enjoyed an ocean view from our lunch table. Upon arrival in Lima, the inevitable disbanding of the team began as some caught midnight flights back to friends and family, while a few have one more day in Lima to relax, catch the World Cup Final, and relive the wonderful experiences we've had over the past couple weeks in the Cordillera Blanca. Best wishes from sea level and thanks for following along!
RMI Guides Robby Young, Elias de Andres Martos, and the Peru Seminar Team
---
More Entries