---
Mt. McKinley: Walter & Team Make Most of their Talkeetna Time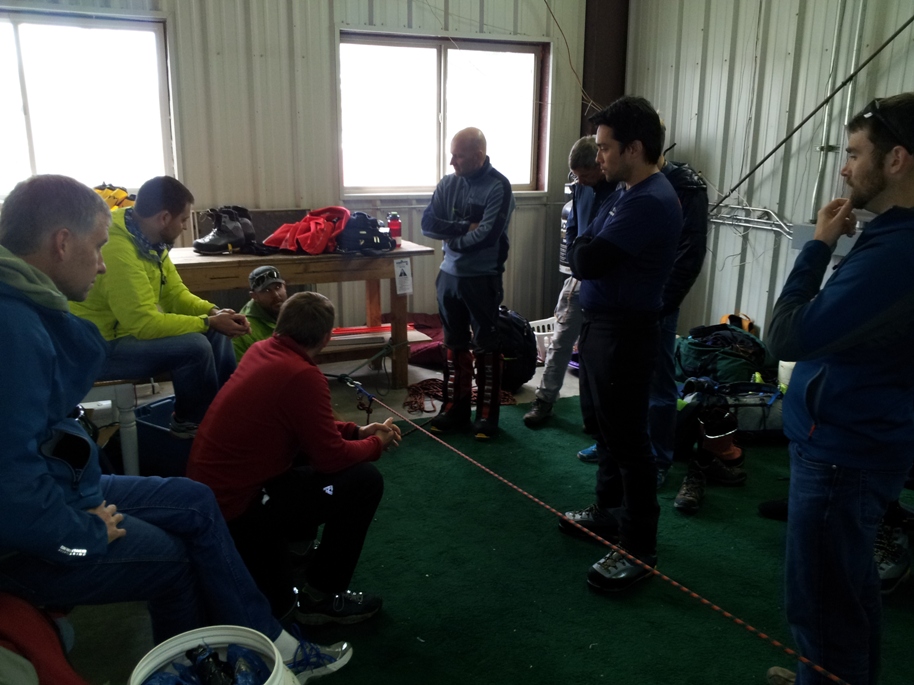 We spent the day waiting for our weather window to fly on to the glacier, but two feet of snow at Base Camp last night and continuing snow through today have so far prevented us from making it on. Rather than idly twiddling our thumbs, we decided to make the best of a warm dry hanger and practice our crevasse rescue skills and self rescue systems. Everyone is feeling better about their systems after a lot of practice and playing with knots and tricks. We still have one and a half hours to go before the planes are grounded for the night, increasingly it is looking like tomorrow morning is more likely for flying. Hopefully our next post will come from there glacier!
Best,
RMI Guide Peter Van Deventer
Unfortunately the weather did not cooperate with us today, and we were unable to fly in to Base Camp once again. While it seems as though the weather is improving, the conditions were not conducive to flying; no planes left Talkeetna today with the intention of trying to land at Base Camp. We took advantage of the down time today and did some dry-land review of crevasse rescue. There were also some pretty competitive games of ping pong going on this afternoon in the Hangar as we waited on standby for the weather to clear. We're all eager to fly, but we understand that climbing Denali requires patience. Hopefully we get a break tomorrow and can fly in to Base Camp and establish ourselves on the mountain. In the meantime, we're enjoying Talkeetna.
Cheers,
RMI Guide Mike Walter
On The Map
×
Sign Up For Denali 2012 Emails
{/exp:mailinglist:form}
---
More to Explore
Mt. McKinley: Walter & Team Enroute to Base Camp
May 12, 2012