---
Denali - West Buttress Expedition
Mt. McKinley: Walter & Team Set up 14,000' Camp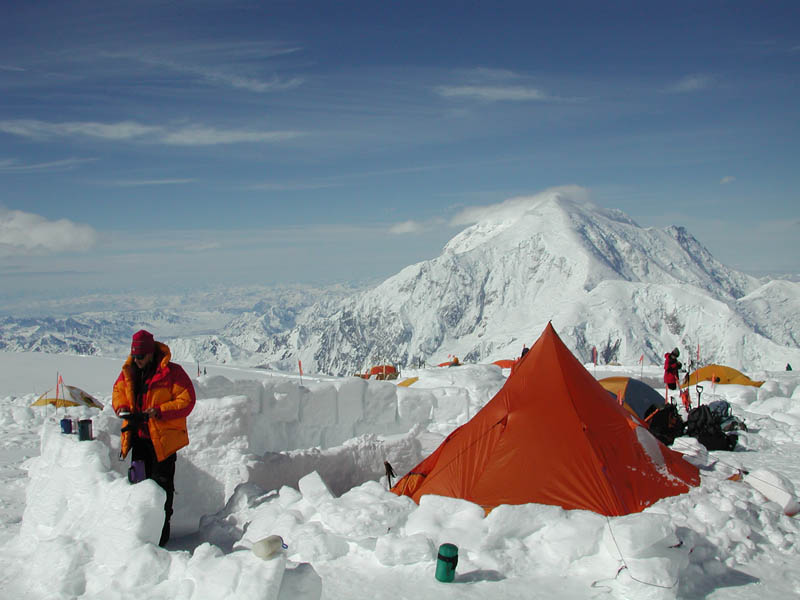 Hey all! Greetings from 14,000 ft. Yesterday was a busy day as several teams including ourselves, packed up camp at 11k and headed for our advanced basecamp at 14k. Temperatures were cool and the sky was bluebird, making ideal conditions for climbing. Windy Corner gave us a little taste with a chilly breeze blowing as we approached. As soon as we rounded it, however, the breeze died and the sun turned on the microwave.
Move days are hard work. Not only do you have a long day with heavy packs, but at the end of it you have to spend several hours reestablishing camp. The team did great and we moved into a quite comfortable camp; important because this is where we will stage from and wait for our weather window to head for the summit. Today we will head down to retrieve our cache at 13k, and spend the rest of the day fortifying camp with large snow walls so that we are prepared for a storm.
We want to wish Maile a super happy birthday, and we're glad she's up here celebrating it with us!
Hasta luego,
RMI Guide Pete Van Deventer and team
On The Map
×
Sign Up For Mount McKinley 2012 Emails
{/exp:mailinglist:form}
---
More Updates
Previous
May 19, 2012
Four Day Summit Climb
Next
May 16, 2012
Alaska Mountaineering Seminar - Expedition