Entries By lindsay mann
Posted by: Tyler Jones, Lindsay Mann, Chase Nelson | June 01, 2015
Categories: *Expedition Dispatches *Mount McKinley
Elevation: 11,200'
Sunday, May 31st 11:45pm PDT
Today the weather was wonderful! We woke up with the sun warming the tents. With a leisurely breakfast of pop tarts and grits we then sauntered down to hit our cache at 10,000ft. The groceries now in hand, we walked back up hill on firm snow dawning our crampons which was a pleasant change from waddling like platypus in snowshoes! Do platypus even walk anyway?
Back at camp our food bags were calling us as we climbed in our tents to beat the afternoon radiation. We welcomed RMI teams Walter and Van Deventer back to 11 camp fresh from the summit yesterday. Great work teams!
After giving high-fives to our friends, we worked on fortifying our camp. We built walls, bathrooms and a new cook tent. Camp looks good and we are snug as a bug in a rug here at 11,000ft.
---
Posted by: Tyler Jones, Lindsay Mann, Chase Nelson | May 31, 2015
Categories: *Expedition Dispatches *Mount McKinley
Elevation: 11,200'
May 31, 2015 - 2:39 am PT
Good evening from 11,000 feet! We woke this morning to more sunny skies and warm temperatures. After a casual start to the day and a nice breakfast, we ducked into the tents for a couple hours to get out of the heat. By late afternoon things cooled for more comfortable hiking conditions, so we broke down camp and got on the move! Even though it's been just a few days on the glacier, the team has adjusted well to mountain life and is traveling efficiently. So after a few hours of moving we arrived at camp, quickly put up our tents, and enjoyed a late dinner. Now we're all settled in for the night and it's time to get some sleep!
On The Map
---
Posted by: Tyler Jones, Lindsay Mann, Chase Nelson | May 30, 2015
Categories: *Expedition Dispatches *Mount McKinley
Elevation: 9,600'
Saturday, May 30th 2:45 am PDT
Hello all! We have our gear and groceries moved up to 10,000 feet. Life is good out on the glacier for our team. Today the high pressure over the area made for very hot conditions in the low altitudes so we delayed our departure until the heat subsided late this afternoon. We are doing our best to save energy and avoid getting cooked like lobsters from the sun.
Our plan worked great and after a number of hours working our way to the cache site, we quickly dug a large hole to store our gear until after we move the camp up to 11,000 feet. On our descent we enjoyed fabulous evening light while carrying our sled like a turtle shell strapped on our backs. Hot soup and a meal warmed our souls as we settle in for the night.
Tomorrow evening if the hot and blue-bird weather continues, we will try to move up to our second camp and gain some acclimatization over the next few days. Stay tuned and we'll have a report when more progress has been made!
On The Map
---
Posted by: Tyler Jones, Lindsay Mann, Chase Nelson | May 28, 2015
Categories: *Expedition Dispatches *Mount McKinley
Elevation: 7,800'
Thursday, May 28th 10:37 pm PDT
We woke up this morning to blue skies in Talkeetna, which meant great weather for flying! After a meal at the roadhouse we scurried over to hangar to transition from Talkeetna street walkers to Denali climbers. With climbing boots on and smiles on our faces we enjoyed a great flight onto the mountain.
Once we arrived at Basecamp the team was highly efficient organizing their gear. After a minimal amount of time at Basecamp we embarked on our journey up the Kahiltna Glacier. Several hours later we arrived at our camp for the night at 7,800'. The team immediately set up tents to shade themselves from sun and nestled in. After a delicious meal of Annie's Mac and cheese we hunkered down for the night.
We will check in again tomorrow night after another day of good work.
On The Map
---
Posted by: Tyler Jones, Lindsay Mann, Chase Nelson | May 28, 2015
Categories: *Expedition Dispatches *Mount McKinley
Elevation: 348'
Thursday, May 28th 12:32 pm PDT
The team is all assembled and packed in Talkeetna! Yesterday we had a thorough gear check and sorting session in the K2 Aviation hangar. Everyone's kits are dialed and we are ready to go. It seems like we have a great team and we are hoping for a great trip. Hopefully we have some good weather today and are able to fly on!
RMI Guide Tyler Jones and team
---
Posted by: Billy Nugent, Lindsay Mann | September 05, 2014
Categories: *Expedition Dispatches *Mount Rainier
Elevation: 14,410'
The Four Day Summit Climb teams led by RMI Guides Billy Nugent and Lindsay Mann reached the crater rim of Mt. Rainier around 7:30 am. Billy reported clear, cold and breezy conditions overnight, now the winds have calmed, the sun is shining and they are enjoying the views. They will spend some time on the summit before starting their descent.
Congratulations to today's Summit Climb Teams.
---
Posted by: Casey Grom, Lindsay Mann | August 21, 2014
Categories: *Expedition Dispatches *Mount Rainier
Elevation: 14,410'
The Mount Rainier Summit Climbs led by Casey Grom and Lindsay Mann are on the summit! They reported clear skies above, cloud deck at 7,000', and light winds. Since they just crested the crater rim at 7:00 a.m., they are enjoying the views and crossing over to the true summit, Columbia Crest, before beginning their descent.
---
Posted by: Lindsay Mann | August 15, 2014
Categories: *Guide News *Guide Grant
With support from the Eddie Bauer - RMI Guide Grant, RMI Guide Lindsay Mann took part in an American Avalanche Institute Level 3 Avalanche Course this winter in Jackson, Wyoming. Afterward, Lindsay sat down to reflect on the course.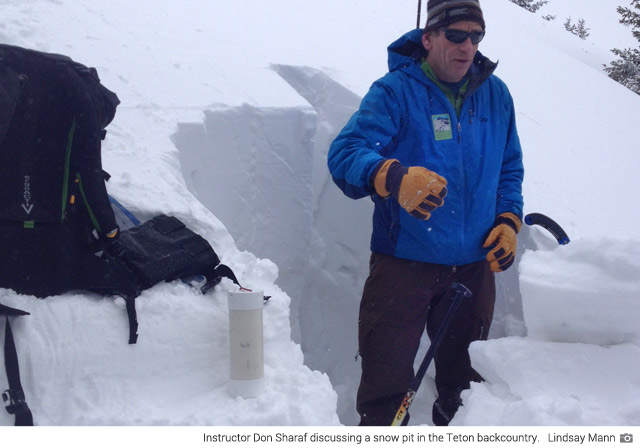 This past January I participated in an American Avalanche Institute Level 3 Course in Jackson, Wyoming. A Level 3 Avi Course entails a great deal of prep work as participants need to complete snow observations, make numerous snow pit profiles, and spend ample experience traveling and making decisions in avalanche terrain before the course even begins. After several days of classroom and field learning, the course concluded with several testing components. These test involved completing a full data snow pit in under an hour, finding three buried avalanche beacons in less than seven minutes, and completing a written test.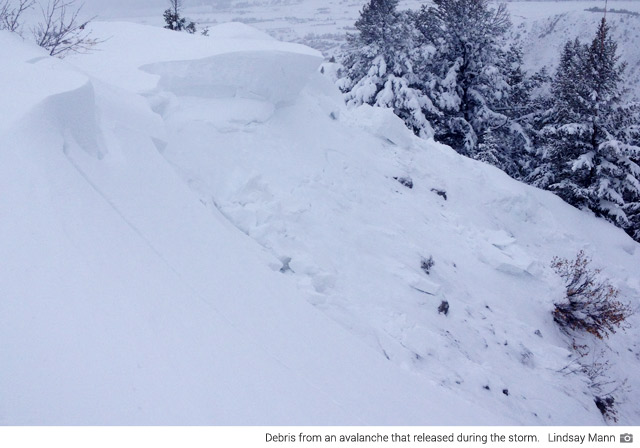 The conditions for our course were ideal for learning. Midway through the course a major storm cycle came through the area, resulting in rapidly changing conditions within the snowpack that had a wide array of implications on avalanche risk. While the class focused on the technical aspects of snow crystal identification and anticipating the array of components that contribute to avalanche forecasting, we were also able to enjoy some great skiing between the times we spent observing and forecasting the rapidly changing snowpack.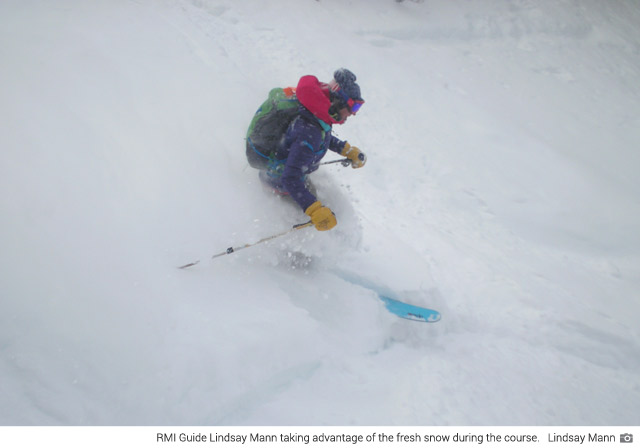 I walked away from the course with a sense of accomplishment, as this is the highest-level avalanche education course available in the U.S., and a greater understanding for mechanics of avalanches and and avalanche forecasting. The complexities of avalanches are remarkable and this course was invaluable in contributing to the toolbox of skills upon which I rely for decision making in the mountains and in avalanche terrain.
________
Lindsay Mann is a Senior Guide at RMI Expeditions and a NCAA D1 Skiing Champion. She has climbed and guided around the world, from Peru to Alaska. Learn more about Lindsay and see her upcoming trips here…
---
Posted by: JJ Justman, Lindsay Mann | August 15, 2014
Categories: *Expedition Dispatches *Mount Rainier
Elevation: 14,410'
The Four Day Summit Climb team led by RMI Guide JJ Justman along with the All Women's Team led by Lindsay Mann reached the summit of Mt. Rainier this morning. The teams delayed their departure from Camp Muir due to rain but once the rain dissipated they began their summit attempt. They were rewarded with great route conditions, light winds and clear skies above. The teams will spend some time on the summit before starting their descent to Camp Muir and then continuing down to Paradise later this afternoon.
Congratulations to today's Summit Climb teams!
---
Posted by: Lindsay Mann | July 31, 2014
Categories: *Mountaineering Fitness & Training
RMI Guide Lindsay Mann recently sat down with the crew at MTNmeister, a five day-a-week podcast that that explores the training, stamina, strength, and psychology of outdoor mountain athletes. Below is an excerpt from Lindsay's interview where she discusses some perspectives on training for Mt. Rainier:
MTNmeister: Talk a little bit about the types of preparation you should be doing with types of mountains like Mt. Rainier…obviously it can just get scaled up from there, there are a lot of people who do larger Himalayan peaks actually train on Mt. Rainier so that would be a good place to start. Where would that training start?
Lindsay Mann: I definitely recognize as [a] guide that my lifestyle revolves around being in the mountains and that's not the reality for all of the people that we climb with. Though, I think it's important for people that do have a more typical lifestyle is getting in some endurance training. Obviously running is great, [really] any type of endurance [training]. Also, training with a pack. I climbed with my dad and he had to be in New York City a couple of weeks before coming out to Rainier so he climbed as many stairs as he could carrying a 40 pound pack. He just filled a bunch of water jugs and put them in his pack.
I think that is an important part of that too, if that's how you do end up training (doing some sort of stairs) is [remembering] to train for the way downhill. So, mentally think about getting to the top, but people forget that they also have to get off of the mountain. I think that for us as guides, the number one thing is getting back home safely. Remembering that training downhill, both mentally and physically, is an important part of the training.
I think that switching it up too, endurance stuff, having a strong core, being creative about your training is very important.
MM: The downhill part that you mentioned, how are you normally descending the mountains?
LM: We go down the same route typically that we go and I think it's just [remembering to use] a lot of the efficiency techniques that we teach on the way up, like the rest step which I'm sure many people have heard of…
MM: Would you explain the rest step?
LM: The rest step is a stance where you have your lower leg straight and your upper leg is bent so all of your body weight is resting on your skeletal system instead of on your muscles. And then just a quick step to that next rest stance so that once again all of your weight is on that lower leg resting more on your skeletal system. It's a nice small step so that you are saving as much energy as you can on the way up and getting a little bit of a rest with each step.
MM: So you are putting more pressure on your skeletal system and saving your muscles for the endurance basically?
LM: Yeah, essentially saving your muscles for the way down. On the way down you don't want to lock out your leg - you just can't do it. It's a lot harder just to walk down.
MM: You mentioned that your father was training by climbing up and down stairs and he had his backpack full of water, how do climbers know that the training is going to be appropriate for the type of trip they are going to do because they probably have never been to that location, unless it's you as a guide who has gone there fifty times so you know exactly what it's like. Do you recommend a person that is going to go up a mountain like Rainier to work with a guiding company like you on the training aspect too? Or is it just looking on the internet, following some other sorts of guidelines?
LM: We actually have a specific training and fitness page and there, there are a lot of good training tips. There are a variety of training tips, for people that have a more "regular" lifestyle, like a nine-to-five job. Also, interspersed in there is some of the training that we guides do. That's one of the best tools that our climbers can use. My dad actually, after he was training, wrote a blog piece on there about the training that he did. He spent a lot of time training in New Hampshire, so he [describes] some hikes that he did that he felt prepared him adequately for Mt. Rainier in his progression.
Listen to the entire podcast and see more of MTNMeister's episodes at mtnmeister.com.
______
Lindsay Mann is a lead guide with RMI Expeditions and has guided and climbed around the world, including a recent all women's ski mountaineering trip to Alaska's Wrangell St. Elias. Learn more about the trip by listening to the full interview.
Questions? Comments? Share your thoughts here on the RMI Blog!
---
Previous Page
More Entries