Entries By mike uchal
Posted by: Mike Haugen, Mike Uchal, Pepper Dee | June 18, 2015
Categories: *Expedition Dispatches *Mount McKinley
Elevation: 11,200'
Wednesday June 17th 10:00 pm PT
We feel like we are finally on the mountain. We woke up early and left camp around 4:30 to cache some gear at 14,000' Camp. Our attempt to beat the heat worked since we pulled into camp right when the direct sun hit. The rest of the day was spent resting and preparing for the move back up to 14 Camp tomorrow. The boys of el Siete feasted on quesaritos this evening, and are going to sleep with full bellies and full hearts thinking about you all.
On The Map
---
Posted by: Mike Haugen, Mike Uchal, Pepper Dee | June 16, 2015
Categories: *Expedition Dispatches *Mount McKinley
Elevation: 11,200'
June 16, 2015 9:32 pm PT
We had another early morning today. Instead of moving uphill, we went back to 10,000' to retrieve our cache. All went according to plan and we got back to camp around 8:30 a.m. We did a bit of relaxing and reorganizing of our reunited gear. The sun was out on the glacier, which provided some intense solar radiation that we tried to stay out of. Our plan is to get up early and carry some gear up to our next camp at 14,000' and then return to 11,200' tomorrow afternoon.
RMI 7 "El Siete"
On The Map
---
Posted by: Mike Haugen, Mike Uchal, Pepper Dee | June 16, 2015
Categories: *Expedition Dispatches *Mount McKinley
Elevation: 11,200'
June 15, 2015 10:20 pm PT
We woke up early to beautiful weather. After a quick breakfast and packing session, we were headed up glacier towards our next camp at 11,200 ft. We made great time with our strong crew and found a partially dug out camp. We proceeded to make it an RMI quality camp. Since we arrived into camp early and had most of the day to work, we decided to go big. Instead of stairs leading down into our cook tent, we decided to make a large tunnel through the side of the hill as our entry way. It turns out you have to move a bunch of snow to make a six foot entry tunnel.
RMI 7 "El Siete"
On The Map
---
Posted by: Mike Haugen, Mike Uchal, Pepper Dee | June 15, 2015
Categories: *Expedition Dispatches *Mount McKinley
Elevation: 9,600'
June 14, 2015 10:58 pm
Hi friends and family! Team Haugen continues to make strong moves up here. Today we got a bright and early start, broke camp, and made short work of Ski Hill en route to Camp 2 at 9,600 feet. Upon arrival, the boys of "El Siete" enthusiastically dug what may be the burliest camp ever to grace the slopes of Denali, then harvested the fruits of their labor by way of a long half day of relaxing, napping, and eating truly preposterous quantities of Mac and cheese. We're all excited for a move up to 11 camp tomorrow. And now, for the more literary inclined followers, please enjoy a summary of the day's exploits in haiku:
Bright and early start,
Solid work on frozen slopes,
Camp 2 chilling, FUN!
On The Map
---
Posted by: Mike Haugen, Mike Uchal, Pepper Dee | June 14, 2015
Categories: *Expedition Dispatches *Mount McKinley
Elevation: 7,800'
Saturday June 13th 11:15 pm PT
In days of yore when men where men and battles raged across the lands and glory rose in the mountains, there came upon the mountaineering stage a great climbing team called "el siete". This fellowship of dynamic professionals hailed from all corners of the great U.S. of A. and even called on brethren from distant Norwegian lands to converge here below "Ski Hill" at Camp One on Denali (which is French for "The Nali"). The determined team worked to achieve the glory of their pursuit by trudging upward to 10,000 feet to strategically deposit in their mountain bank expedition supplies for safe keeping.
Nestled in their beds the great team awaits a strong move in the wee hours of the morning to 9,600 feet.
Stay tuned for more adventures of the soon to be mountaineering legends know as "el siete."
Stay classy lower 48 - and Norway!
On The Map
---
Posted by: Mike Haugen, Mike Uchal, Pepper Dee | June 13, 2015
Categories: *Expedition Dispatches *Mount McKinley
Elevation: 7,800'
Friday June 12th 11:25 pm PT
Upon our late arrival at Base Camp the weather started turning nasty, so we set up tents and burrowed into our sleeping bags. Lo and behold, upon awakening the skies had cleared and the mountain beckoned! We broke camp and descended the Southeast Fork Kahiltna to the Main Fork, turned up-glacier and headed toward Camp 1. The glacier route is in prime condition and we reached our camp in several hours taking in the spectacular mountain views around us. Everyone in the team is doing great and looking forward to our next objective, Camp ll. More later!
On The Map
---
Posted by: Mike Haugen, Mike Uchal, Pepper Dee | June 12, 2015
Categories: *Expedition Dispatches *Mount McKinley
Elevation: 7,300'
After some long trips from our respective homes, our crew arrived in Anchorage and formed the super team, "El Siete" (RMI Team Seven). We made the journey to Talkeetna, AK the day before yesterday and started to prepare for our flight onto the mountain. We spent yesterday packing in the hanger. The weather did not seem to be on our side and the probability of us flying into base camp on time seemed very small. We figured we would be joining all of the other teams that had been doing the "Talkeetna Wait" for days. We woke up today anticipating that we would not fly this morning and we were not wrong. After a good breakfast, lunch, and a few wanders around town, we planned on getting a pizza and watching the NBA finals. As soon as the crew started to get into the game, the flight service called and told us there was a small window for us to fly.
So here we are on the glacier ready to climb the big one. If you did not get a call from us before we left, we were in a mad rush and we will get back to you after we summit!
RMI Guide Mike Haugen & Team
---
Posted by: Win Whittaker, Mike Uchal, Alex Barber, Kel Rossiter, Leah Fisher, Billy Haas | June 27, 2014
Categories: *Expedition Dispatches *Mount Rainier
Elevation: 11,200'
The Four Day Summit Climb Team led by Win Whittaker and Kel Rossiter climbed to Ingraham Flats this morning (11,200'), but due to snow, high winds, and poor visibility they were unable to reach the summit of Mt. Rainier. The entire team is safely back at Camp Muir and will be starting their descent back to RMI BaseCamp shortly.
Congratulations to today's Team!
---
Posted by: Brent Okita, Mike Uchal, Christina von Mertens, Seth Waterfall, Mike King, Alex Barber, Robby Young | June 24, 2014
Categories: *Expedition Dispatches *Mount Rainier
Elevation: 14,410'
Early this morning the Four Day Summit Climb led by Brent Okita reached the summit of Mt. Rainier. Brent reported clouds above and winds 20 mph, and some new snow on the mountain. The team has started their descent and are now en route back to Camp Muir.
The Expedition Skills Seminar - Emmons Team led by Seth Waterfall reached the summit via the Emmons route at 11:50am this morning. The will spend a bit of time on the summit before starting their descent.
Congratulations to Today's Teams!
---
Posted by: Mike Uchal | June 04, 2014
Categories: *Mount Rainier *Responsible Climbing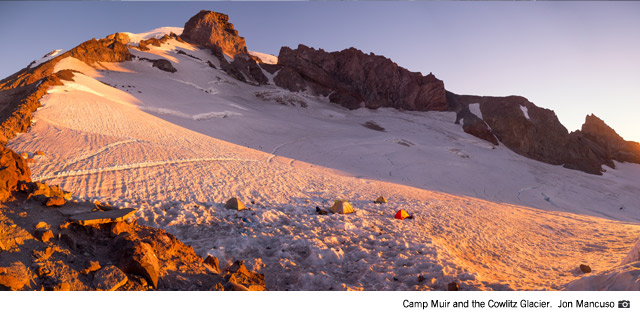 Every summer, RMI climbing teams consume over 7,000 gallons of drinking water at Camp Muir, the primary camp on Mt. Rainier's Disappointment Cleaver Route. For many years, melting snow in a large barrel heated by propane created drinking water for Camp Muir. We knew that there was a better way to provide drinking water to our teams and it just required a little bit of creativity, brainstorming, and initiative. Over the course of the 2012 and 2013 climbing seasons, a new solar thermal system was installed at Camp Muir. This system, designed to use environmentally benign and free solar energy to efficiently melt snow, provides drinking and cooking water for RMI climbers and guides at an elevation of 10,060'. The system was designed and built by RMI Guide and alternative energy professor Mike Uchal and his colleague Dr. Brian Raichle, who is a professor of solar energy technology at Appalachian State University. RMI Guide Cody Doolan also contributed with the design, installation, and maintenance. RMI's Solar Snow Melt System, part of our commitment to Responsible Climbing, reduces our environmental footprint on Mt. Rainier by minimizing the need to burn liquid propane gas in order to melt snow, cuts our operating costs, and reduces the environmental footprint of the helicopter used to transport propane to Camp Muir.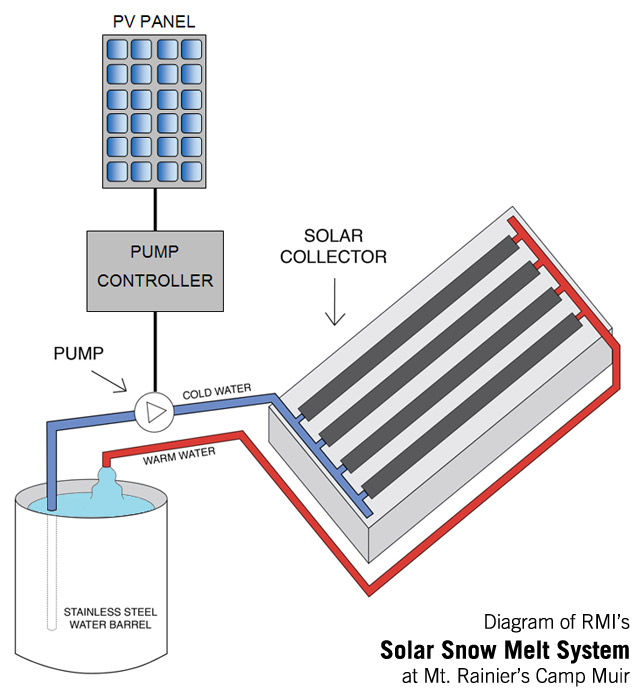 How it works:
A small electric pump powered by photovoltaic panels pulls water from the burn barrel, a large barrel used to melt snow, uphill to a solar thermal collector. The collector, a conventional flat plate solar thermal collector is the kind that is typically used in residential and commercial domestic hot water systems. The water is pulled by gravity through the copper pipes in the collector and is heated by solar radiation before returning to the melt barrel. RMI guides keep the barrel fed with clean snow from the snowfields above Camp Muir and this snow mixes with the warm water and melts into liquid form. A controller turns on the pump in the morning and off at the end of the day when the sun goes down. Because the collector is uphill of the barrel, gravity drains water from the collector at night to prevent damage from freezing water. This system design eliminates any problems associated with overheating during late season conditions when solar energy can be plentiful and strong.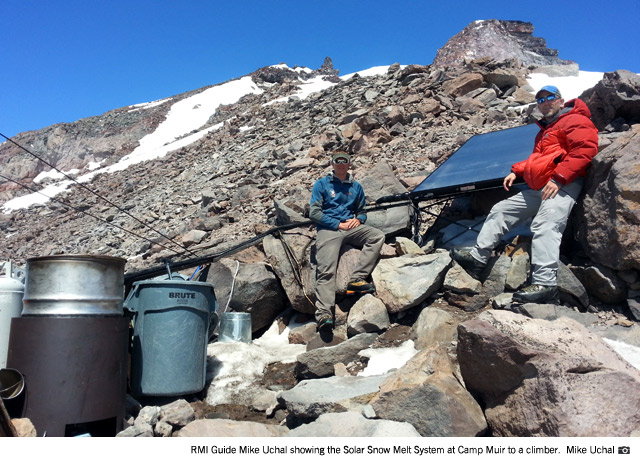 How it performs:
On warm, sunny days at Camp Muir, typical in the late summer, the solar snow melting system heated the 30+ gallons of water in the burn barrel to above 100°F. That is nearly spa temperature! On cold, sunny days, often found early in the season, the system heated water to temperatures above 40°F - enough to effectively melt snow. Propane is still used during storms that last several days, when solar radiation isn't strong enough to heat the collector, but the solar snow melting system dramatically reduced the amount of propane burned during the 2013 summer climbing season.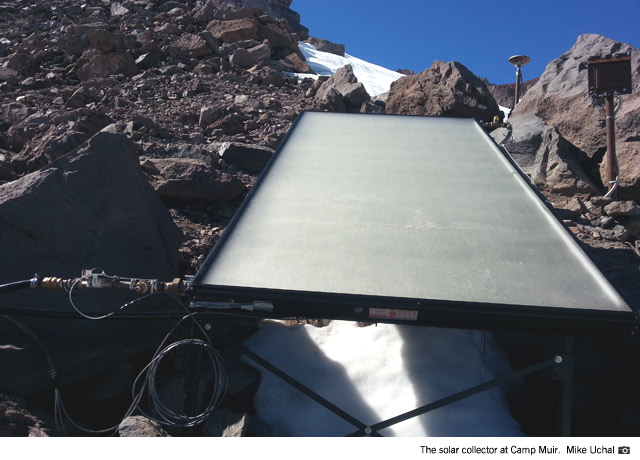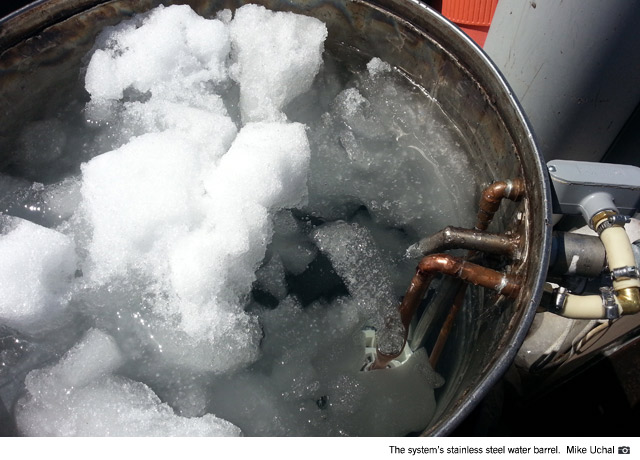 Anecdotally, before the 2013 climbing season the propane burner was running for around 3.5 hours per day to melt enough snow to provide drinking water for the RMI teams. During the 2013 climbing season, guides estimate that the burner was needed on average around 15 minutes per day. During the summer climbing season of 2013, we estimate the solar system saved approximately 250 pounds of propane, the associated cost of transport that propane, and 0.33 metric tons of CO2 emissions.
This project is part of RMI's commitment to the outdoor community and environment as we work to reduce the environmental footprint of our climbs in order to ensure that many future generations are able to enjoy the same mountain environment that we enjoy. The RMI Solar Snow Melt System is a great example of practices that can reduce a business' environmental footprint and provide cost savings at the same time. By the end of its first full year at Camp Muir, the system paid for itself with savings in fuel and helicopter transport costs. The next time you make it to Camp Muir, swing by the guide shack and check it out! The guides would love to show you the system in person.
_________
Mike Uchal is a Professor of Alternative Energy at Appalachian State University and guides trips on Mt. Rainier and Mt. McKinley for RMI Expeditions. Mike lives the mountain life, rock climbing, paddling whitewater, mountain biking, trail running, and skiing whenever he has spare time.
---
Previous Page
More Entries