Kyajo Ri Expedition
Kyajo Ri, standing at 20,295', is the ultimate alpine climbing expedition. The climbing on Kyajo Ri is an exciting combination of steep alpine ice and rock climbing that leads to an airy summit with magnificent views of the Himalayan range.
EXPEDITION HIGHLIGHTS
Trek to Kyajo Ri Base Camp through the gorgeous mountain valleys of Nepal, taking in Himalayan Giants like Cho Oyu, Ama Dablam, Lhotse, and Everest from the 17,000' Renjo La Pass.
Enjoy the vibrant mountain culture of Khumbu region, sleeping in and sampling the delicious food of the teahouses along our trekking route.
Enjoy the spectacular alpine climbing of Kyajo Ri, ascending the steep rock and ice to reach the airy summit, at over 20,000'.
Experience the ultimate alpine climbing expedition, benefiting from comprehensive logistics with porter support to Base Camp, and a 2 to 1 climber to guide ratio that ensures personal attention and support on this demanding climb.
Take part in an RMI adventure and see why we continue to set the standard in guiding excellence.
Our Kyajo Ri expedition provides avid climbers with experience on steep mixed terrain the opportunity to summit a Himalayan Peak in alpine style. A fast and light summit strategy is facilitated by a previous acclimatization trek over the Renjo La pass, foregoing the need for multiple rotations and the help of external support. Rock pitches of up to 5.7 in difficulty, and ice pitches of up to 65° on summit day will make this a memorable first time Himalayan climbing experience.
A fall trek through the Khumbu Valley provides a tranquil alternative to the hustle and bustle of the busy spring season in the Everest region. The cool, crisp air and changing colors of the forested hillsides delight the senses during a time of year when trekkers can typically enjoy long stretches of clear days. We take a less travelled route, hiking up and over Renjo La, to drop down into the serene alpine village of Gokyo. After relaxing for an evening along the shores of Dudh Pokhari, where yaks and wetland birds wander about, we venture further up valley, exploring the series of glacial lakes that lead us to the base of Cho Oyu's South Face. On our return from Cho Oyu Base Camp, we descend through Gokyo Valley, giving us the chance to experience a different collection of Sherpa-run lodges.
Kyajo Ri's mix of moderate rock climbing and steep alpine ice provides an exciting challenge and the views of surrounding 8,000m peaks are unparalleled.
Our Kyajo Ri Expedition is for climbers looking for an exciting and challenging alpine climb in the heart of one of the World's most storied mountain ranges. Kyajo Ri involves steep slopes and prior knowledge of roped travel, ice and rock climbing and crampon techniques, and ice axe arrest is required.
THE RMI DIFFERENCE
RMI was established in 1969 and is one of America's oldest and most-trusted guide services. We are the largest guide service on Mt. Rainier and Denali and leaders in guiding climbs and treks around the globe. Our years of leading mountain adventures give us the experience and knowledge to create the best possible trips and we work hard to live up to our reputation as an industry leader. Our comprehensive trip preparation takes care of the details for you, from hotels to airport transfers, so that you can focus on preparing for the climb instead of the distraction that comes with coordinating logistics.
Our Kyajo Ri expedition is led by RMI's top guides, who bring with them years of climbing experience on mountains all over the world, from the Andes to the Alaska Range to the Himalayas. As you reach higher elevations and test the limits of your experience, the value of an accomplished, highly trained RMI Guide held to our standards cannot be understated.
We climb Kyajo Ri with a 2:1 climber to guide ratio to provide the important individual attention needed during the training and the climbs.
We use RMI's own climbing equipment brought from the U.S., ensuring that our expedition standards of safety, quality, and reliability are met. We've chosen our hotels and meals to keep our team comfortable, happy, and healthy throughout the climb. Our exceptional focus on detail, our unparalleled level of climber attention, and our genuine excitement for these adventures are what make our programs truly memorable.
SAFETY
Safety has always been RMI's top priority and we strive to create the safest mountain experience possible. RMI's experienced team of guides focus on leading a fun and successful climb without compromising safety. We apply the same strict standards of safety we bring to the Alaska and the Himalayas to our climbs of Kyajo Ri. Careful planning, precise ascent profiles, daily weather forecasts, and diligent attention are taken as we venture to high altitudes. Comprehensive medical kits, rescue equipment, and radio and satellite communication equipment are carried with the team throughout the trip.
As you prepare for your upcoming adventure please feel free to contact our office and speak directly to one of our experienced guides regarding equipment, conditioning, the route, or any other questions you may have about our programs. We are available Monday thru Friday 8:30 a.m. to 4:00 p.m. at (888) 89-CLIMB or [email protected].
Upcoming Climbs

Please call our offices at 1-888-892-5462 to inquire about availability.

Show All

Price

$7400*

Deposit

$1500

Duration

25 days

Difficulty

Type

Mountaineering

*ALL PARTICIPANTS MUST BE FULLY VACCINATED AGAINST COVID-19. | LIMITED TO 6 CLIMBERS.
Table of Contents
Print all Trip Details
Print this Page
Day 1
TRAVEL DAY
Depart US. During your flight you will cross the International Date Line, and travel time is approximately three days.
Day 2
TRAVEL DAY
Day 3
KATHMANDU  •  4,383' | 1,336m
We arrive at the Tribhuvan International Airport in Kathmandu and transfer to our hotel for some rest and recovery before our evening reception and welcome dinner. Overnight in Kathmandu. (D)
Day 4
KATHMANDU   •   4,383' | 1,336m
Situated in a bowl-shaped valley in central Nepal, Kathmandu is the largest city in the country and the cosmopolitan heart of the Himalayan Region. Today is our first chance to explore Kathmandu's rich and diverse culture with a city tour including the Boudhanath Stupa, Pashupatinath, and Swayambunath - the Monkey Temple. The rest of the day is spent enjoying the city and local cuisine. Overnight in Kathmandu. (B)
Day 5
PHAKDING  •  8,700' | 2,652m
In the morning we fly to Lukla, the village where our trek to Kyajo Ri Base Camp begins. The airport in Lukla is the Tenzing Norgay Airport, and landing on the STOL (Short Takeoff and Landing) runway is an experience in itself. From here on out, there are no more vehicles or roads, just a network of villages connected by footpaths. After coordinating logistics with our local staff members, we start trekking along the river towards the village of Phakding. We spend the night at a small teahouse on the bank of the milky-blue Dudh Kosi river. (B, L, D)
Day 6
NAMCHE BAZAAR  •  11,300' | 3,444m
Hike to historic Namche Bazaar, the gateway to the high Himalayas and the Sherpa community's central meeting place. Namche is where lowland porters bearing supplies meet the highland Sherpa and Tibetan people who have journeyed over high passes from many miles away to trade food and supplies for their home or village. Namche's busy shops, delicious bakeries, and jovial feel are a welcome sight after making the long climb up from the valley floor below. (B, L, D)
Day 7
NAMCHE BAZAAR  •  11,300' | 3,444m
We build upon our acclimatization by going for a short hike to the village of Khumjung to visit the historic Hillary School and cache any extra gear for our descent route from Gokyo. Our hike takes us along the more remote paths between villages, offering glimpses of the peaks higher up the valley, before returning us to Namche for the evening. (B, L, D)
Day 8
THAME  •  12,530' | 3,819m
We leave Namche and follow an ancient Tibetan trade route up the Bhote Kosi valley to Thame, passing through several small farming communities along the way. Perched above the high plain where the village lies, are the Thame Monastery and Sunder Peak, both within close range for optional afternoon sightseeing. (B, L, D)
Day 9
LUNGDHEN  •  14,330' | 4,368m
We make the gradual ascent to Lungdhen via a remote, open valley that climbs above treeline, yielding glimpses of high, snowy peaks off in the distance. (B, L, D)
Day 10
REST DAY LUNGDHEN  •  14,330' | 4,368m
We stay another night in Lungdhen to continue our acclimatization, fuel up with warm food and drink, and rest our legs before the big push up and over Renjo Pass to Gokyo. This quiet community of alpine lodges is the typical launching point for trekkers making an early morning departure for Renjo La. (B, L, D)
Day 11
GOKYO  •  15,715' | 4,790m
This will likely be the most strenuous day of the acclimatization trek, given the challenge of moving through high altitude terrain that may be rocky, snowy, or icy, depending on the conditions. Yet the rewarding views from the top of Renjo La (17,585') easily justify those achy muscles and tired lungs. We pause amid the fluttering prayer flags to capture photos of the Rolwaling Himal, Tibetan border, and Himalayan giants such as Cho Oyu and Everest. Finally we make our way down to the village of Gokyo for a restful afternoon on the shores of Dudh Pokhari, considered a sacred lake to Hindus and Buddhists alike. (B, L, D)
Day 12
HIKE TO CHO OYU BASE CAMP (17,060')  •  15,715' | 4,790m
An enjoyable day hike awaits us as we set out from Gokyo to explore the remote region lying just south of the Nepali-Tibetan border. We pass by turquoise lakes, primitive shelters once used by yak herders, and perhaps some rusty remains left behind by mountaineering expeditions of yesteryear. The trail makes a gradual ascent up the glacial moraine, then along a grassy, dried-up riverbed, before hugging the steep cliffs that beckon us towards Gyazumba Tsho, the mystic lake at the base of Cho Oyu's South Face. The views of Everest, Lhotse, Gyachung Kang and Cho Oyu make the outing well worth the extra effort. Return to Gokyo for overnight. (B,L, D)
Day 13
DHOLE  •  13,255' | 4,040m
Making a casual departure from Gokyo, we descend the Gokyo Valley through Machermo to Dhole to find thicker air and a good night's sleep. The sentinels of Cholatse to the east and Kyajo Ri to the west will tower over us on our descent to lower elevations. (B, L, D)
Day 14
KHUMJUNG  •  12,400' | 3,780m
The comfortable trail down to Phortse Thanga traverses a hillside blanketed by aromatic herbs used by the locals as both incense and tea, before zig-zagging its way up to the ridgetop village perched atop Mong La. During our lunch break here, we'll enjoy breathtaking views of Ama Dablam as it towers ominously above us. The afternoon hike to Khumjung takes us though a small rhododendron forest just before reaching the comforts of the lodge, where we previously cached our extra gear. (B, L, D)
Day 15
KYAJO RI BASE CAMP  •  14,600' | 4,450m
We start the day early towards base camp, by hiking straight uphill towards the Khumuche Himal, the chain of rocky peaks at whose end Kyajo Ri rises tall. A steep trail, side cut on the slopes, gains elevation slowly towards treeline. After some 4-6 hours of climbing, we reach the plateau where we pitch camp at the headwaters of the Teshebu Kola.
Day 16
CAMP 1  •  17,125' | 5,220m
With a long day ahead, we wave goodbye to our porters as we dismantle camp and pack everything with us. For the next few days of our summit push, we'll put our alpine style skills to the test, packing light and being efficient on our mission. Two steep headwalls guard the access to the Kyajo Glacier where Camp 1 sits. One hour of demanding scrambling, through the only gullies that allow us to pass through, will put us at the lake on the base of the mountain, at the toe of the glacier. (B, D)
Day 17
CAMP 2  •  18,700' | 5,700m
The adventure continues as we find our way up onto the Kyajo Glacier, which will lead us to the base of the last headwall to surmount on our way to the West Ridge of Kyajo Ri. At its end, we reach the col where camp sits, right at the base of our climbing route. (B, D)
Day 18
SUMMIT (20,295')  •  17,125' | 5,220m
Summit day on Kyajo Ri is an incredible climbers' delight; a route starting right from the tents and presenting steep rock, ice, and snow that test your climbing skills are only part of the treat. The views of five of the eight-thousand meter peaks including Everest just a stone's throw away, the Tibetan Plateau to the north and the Rolwaling Mountains to the west, are images that will leave a lasting impression. Following the obligatory pictures and high fives on top, we initiate our 10-12 full rope length rappels to the base. We pack up camp and continue to descend to Camp 1. (B, D)
Day 19
NAMCHE BAZAAR  •  11,300' | 3,444m
We'll wake up tired, but with a feeling of accomplishment. We pack camp and descend to Base Camp, continuing on to Namche Bazaar. A stop on the way in Khumjung for a late lunch will get us excited for a return to the comforts of the trekking route. (B, L, D)
Day 20
LUKLA  •  9,350' | 2,850m
We spend out last day on the trail, hiking from Namche to Lukla, crossing the eleven swaying suspension bridges over the Dudh Kosi and re-entering the fertile valleys of the lower Khumbu. (B, L, D)
Day 21
KATHMANDU  •  4,383' | 1,336m
The scenic morning flight back to Kathmandu gives us one last chance to say farewell to the mountains. The afternoon in Kathmandu is open for exploring or just relaxing. (B)
Day 22
CONTINGENCY DAY
We build in two contingency days to give us some flexibility in our summit schedule, increasing our chances of reaching the peak.
Day 23
CONTINGENCY DAY
Day 23
TRAVEL DAY
We depart Kathmandu. (B)
Day 25
TRAVEL DAY
Arrive home.
Key: B, L, D = Breakfast, Lunch, Dinner included.
Print all Trip Details
Print this Page
Travel Consultant
RMI has partnered with Erin Rountree to provide comprehensive travel support. We have been working with Erin for many years. As an independent agent of the Travel Society, she has booked countless miles for adventure travelers across the globe and is extremely knowledgeable about the travel needs of our programs. Please call (208) 788-2870 or send email to [email protected].
Travel Insurance
Travel insurance is required for this trip. Your travel insurance policy should include trip cancellation, trip interruption, trip delay, baggage loss or delay, medical expenses, and evacuation.
Navigating through the different options for travel insurance can be confusing. To help make the process straightforward, we have partnered with Ripcord Insurance because their policies are specifically designed for adventure travel and offer coverage for remote areas, and for activities like mountaineering, climbing, skiing, and trekking, without any altitude restrictions.
When purchasing Travel Insurance, here are a few items to consider:
Read the fine print. Travel Insurance will refund you when canceling for a covered reason for any non-refundable cancellation fees. However, there are exclusions, so make sure you understand the "covered reasons."
Confirm that your activity is a covered "activity." Not all travel insurance policies will offer coverage for activities such as mountaineering, climbing, skiing, or trekking adventures. Policies can also exclude coverage for activities due to the gear used (crampons, ice axe), for activities that go above certain elevations, or for activities in a particular region of the world. If there are exclusions, you may need to add an "Adventure" or "Sports" package to cover your activity.
Verify that your state of residence is allowed with the policy that you are purchasing. Not all insurance companies offer policies in all 50 states.
Ripcord Rescue Travel Insurance is travel insurance designed for adventurers, including the best evacuation and rescue services available.
Benefits are tailored for adventurers and include:
Rescue and evacuation from the point of illness or emergency to your home hospital of choice.
Trip cancellation/interruption, primary medical expense coverage, sporting goods, baggage loss, emergency dental, Accidental Death & Dismemberment (AD&D), and more.
Completely integrated one-stop program with a single contact for emergency services to travel assistance and insurance claims.
24/7 access to paramedics, nurses, and military veterans.
Security extraction in case of unexpected dangerous and chaotic events.
Cancel For Any Reason (CFAR) options and pre-existing condition waiver within 14 days of your initial trip deposit.
Ripcord Rescue Travel Insurance is powered by Redpoint Resolutions, a medical and travel security risk company. Their team is comprised of special operations veterans, paramedics, Stanford Medicine affiliated physicians, former intelligence officers, insurance actuaries, and global security experts with dozens of years of experience in theaters around the world. The Redpoint network covers the globe, making them uniquely equipped to provide elite rescue travel insurance – in every sense of the word. Whether it's reimbursing you for a canceled trip, paying your travel medical bills, or evacuating you home in an emergency, Ripcord takes the worry out of your travel.
Security & Medical Evacuation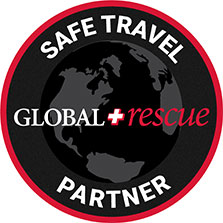 Global Rescue is the world's premier provider of medical and security advisory and evacuation services. Security Evacuation offers crisis evacuation services in non-medical situations. Examples include evacuations from areas affected by natural disasters, war or conflict zones, terrorism, and other areas in which participant security is threatened.
Travel Advisories / Warnings
Please confirm any current travel advisories/warnings as well as passport and visa requirements with the U.S. Department of State.
Getting There
During your flight to Kathmandu (KTM) you will cross the International Date Line. Travel time is approximately three days. If you want to see the mountains as you fly into Kathmandu, make sure you sit on the right-hand side of the plane.
Entry Requirements
A valid passport is required for entering Nepal. Your passport must be valid for 6 months beyond the expected date of return. U.S. passport holders can stay up to 90 days without special visas.
We suggest making a copy of the first two pages of your passport and keeping them in a separate bag as a back up. A copy should also be left with your emergency contact.
Visas
Nepal: All foreigners (except Indian Nationals) require visas, which can be obtained in advance or upon arrival with one passport photo and payment in cash (U.S. Dollars).
Airport Arrival
Upon arrival at the Kathmandu Tribhuvan Airport (KTM), follow signs to the Arrivals Building. Proceed to the visa counter for Visitors without a Visa. The debarkation and visa application forms you need are available both on your incoming flight as well as in the arrivals building. You will need one passport photo for your visa application.
Once you receive your bags from Baggage Claim, you will proceed to Customs. Be sure to keep all your bags together.
Outside the arrivals hall there will be a large group of taxi drivers and agents from many hotels and travel companies. Look for a sign with the name Rainier Mountaineering, Inc. A private vehicle will take us to our hotel.
In-Country Transportation
The provided transportation in Nepal as stated in the itinerary is via authorized taxi or private vehicle.
Immunizations & Travel Medicine
For the most current information on inoculation requirements and recommendations, please refer to the Centers for Diseases Control and Prevention.
Traveler's Health
Travelers may suffer from upset stomachs when in foreign countries. There are some basic rules, however, that can help keep you healthy.
Hygiene - It is important that you wash your hands thoroughly before meals and after using the restroom. If water is not available for washing, we recommend using a hand sanitizer.
Water - The number one rule is: don't drink the water, and that includes shower water and ice! Brush your teeth with purified water rather than tap water. You should check bottled water for a good seal and use a napkin to wipe dry excess moisture in drinking glasses. Take care with fruit juice, particularly if it has been diluted with water. Carefully clean the tops of bottled beverages before opening.
Food - If it is cooked, boiled or can be peeled, you can usually eat it. Salads and fruits should be washed with purified water or peeled where possible. Be wary of ice cream and shellfish. Always avoid any undercooked meat.
Medical Emergencies
Excellent care for minor illnesses and injuries is readily available. In the event of more serious illnesses or injuries, we recommend transport to any of the Level 1 care centers in Kathmandu.
Nepal Country Facts
Nepal is one of the world's richest countries in terms of bio-diversity due to its unique geographical position and altitudinal variation. The country is roughly 497 miles long and 124 miles wide, with an area of 56,827 square miles. The collision between the Indian subcontinent and the Eurasian continent produced the Himalaya and the Tibetan Plateau. Nepal lies completely within this collision zone, occupying the central sector of the Himalayan arc, nearly one third of the 1,500 mile-long Himalayan Mountains.
The first civilizations in Nepal, which flourished around the 6th century B.C., were confined to the fertile Kathmandu Valley where the present-day capital is located. It was in this region that Prince Siddhartha Gautama, the founder of Buddhism, was born c. 563 B.C.
Nepali rulers' early patronage of Buddhism largely gave way to Hinduism, reflecting the increased influence of India, around the 12th century. Nepal is now primarily a Hindu country, with more than 80% of the population adhering to that faith.
Until the Kingdom of Nepal became the Federal Democratic Republic of Nepal in May 2008, it had been ruled in relative isolation by monarchs or a ruling family for most of its modern history. Nepal is now home to nearly 29,000,000 people. The population is primarily rural. Kathmandu, the largest city, has less than 1 million inhabitants.
Weather
Nepal's lowlands have two seasons: the dry season and the monsoon. The higher mountains have a cold winter as well. The dry season runs from October to May and the wet (monsoon) season from June to September. Spring (March to May) and fall (September to November) bring nearly perfect weather and are definitely the best times for trekking and climbing.
Cultural Etiquette
Although it is not expected that we dress formally, we should dress modestly. Casual and comfortable clothing is suggested along with comfortable shoes. Except at swimming areas, it is generally considered offensive for a man to take off his shirt in public and, equally, women should be conservatively covered.
"Namaste" is perhaps the most important phrase you should learn when visiting Nepal. It is a greeting that means "salutations to you" or "I bless the divine in you." It is said while at the same time pressing your two hands together in front of you as if in Christian prayer.
When eating, you should only use your right hand. This practice extends to passing food containers and plates with your right hand only.
Nepal has a huge population of beggars. Some are professionals. Others are genuine. The number of street children in Kathmandu can be heartbreaking. Giving money or sealed food to them, however, is also not recommended. To keep from being hassled, a polite but firm "No" is generally sufficient.
A person's head is considered the most revered/spiritual part of the body and therefore it is important that you do not make any kind of physical contact with it. This means that it is unacceptable for you to pat a child on the head.
Nepal is very photogenic and the photos you take will be priceless. Ask for permission before photographing individuals, particularly indigenous people. Many of the locals are used to posing for photographs. If in doubt, either ask or refrain. Don't photograph any government or military property or persons; this includes the airport.
Electricity
Electricity in Kathmandu normally comes as 220 Volts/50 cycles. It is advisable to carry voltage converters and plug adaptors with you while traveling. Voltage converters and plug adaptors are easily accessible at shopping malls in the cities of Nepal and the U.S. Most teahouses and lodges will charge your electronics for a small fee.
Money
The official currency of Nepal is the Nepalese Rupee (NPR). In Nepal you are almost always required to pay for goods or services with the Nepalese Rupee. It is recommended that you change only as much money as you think you may spend as local currencies cannot be removed from the country or reconverted easily. Check a financial newspaper or www.xe.com for the current exchange rate prior to departure.
We suggest bringing $900 - $1,100 total for personal spending money including restaurant meals, drinks, pocket money, and the Support Staff Tip Pool.
American Express, MasterCard and Visa are accepted in tourist shops, hotels, restaurants and agencies in Kathmandu. You will find a large number of ATMs in Kathmandu and using ATMs is the common method of obtaining cash. Plan on bringing cash for any purchases you will make while on the trek. While a few teahouses and bakeries in the Khumbu do accept credit cards, they charge a very high commission.
Everyone has a preferred way to carry money. Some use money belts, others have hidden pockets. Whatever you do, be aware of pickpockets and thieves in any area which caters to tourists.
Tipping
Everyone approaches tipping a little differently. Whether or not a person tips, and how much, is completely dependent upon the individual; here are some suggested tipping guidelines for your trip.
Local waiters, drivers, and other service personnel expect to be tipped. Ten to fifteen percent is standard. Some restaurants and hotels add a 10% service fee to bills in which case, no further tip is required.
Support Staff Tip Pool: We recommend that each climber contribute $200 to the Tip Pool. This is collected at the beginning of the trip and will cover group tips for all our support and mountain staff throughout the program.
Our guides work hard to ensure your well-being and success on the mountain. If you have a positive experience, gratuities are an excellent way to show your appreciation. Amounts are at your discretion and should be based on your level of enjoyment. Tips for excellent service normally average 10 – 15% of the cost of the program. If you would rather not bring the guide gratuity with you on the trip, you can send a check or call the RMI office to pay with a credit card upon your return.
Print all Trip Details
Print this Page
Qualifications
This trip is open to all individuals in excellent physical condition with previous climbing experience. Successful completion of an RMI Expedition Skills Seminar on Mt. Rainier, in Alaska, Peru, Ecuador, North Cascades, or an equivalent multi-day mountaineering seminar is required.
Your climbing resume should include:
Previous glacier travel experience
Experience at altitudes above 14,000'
Participation in Colorado Ice - Introduction and Colorado Ice - Intermediate or equivalent
A minimum of two snow and ice climbs of approximately 2,000' in length at 35-50 degrees in angle using two tools
Crampon skills on 30-50 degree slopes
Team rope travel skills
Knots & slings - prussik, butterfly, Münter, etc.
Snow and ice anchors (construction & equalization)
Belaying and running belay experience
Crevasse rescue (from both the victim and rescuer perspectives, and considering heavy packs)
Fixed line travel with mechanical ascenders
Ice axe self and team arrest, with and without a backpack
Qualifying Programs
Recommended climbing experiences prior to the Kyajo Ri Expedition include:
Get In The Best Shape Of Your Life
And Then Go
Climb A Mountain

Create A Fitness And Training Program
Fitness for Mountaineering
Mountaineering requires a high degree of physical stamina and mental toughness. Even for the healthiest and fittest individuals, climbing mountains qualifies as an extremely challenging endeavor.
Start immediately. Start a rigorous fitness and training program now with the goal of arriving in top physical condition and confident in your skills.
Be intentional. Focus on gaining the necessary strength, stamina and skills to meet the physical and technical demands of the climb.
Be sport-specific. The best fitness and training program mimics the physical and technical demands of your climbing objective. The closer you get to your program date, the more your training should resemble the climbing.
For the Kjayo Ri Expedition, you are preparing for:
Steep climbing and glacier travel with a 50-65 lb load
Strenuous physical activity for multiple hours a day for multiple consecutive days
A 12-14+ hour summit day
Mountaineering techniques requiring core strength and flexibility
Nothing ensures a personally successful adventure like your level of fitness and training. Bottom line: Plan on being in the best shape of your life and ready for a very challenging adventure!
Please refer to our Resources for Mountaineering Fitness and Training for detailed fitness and training information.
Acclimatization
The key to climbing high is proper acclimatization. Our program follows a calculated ascent profile which allows time for your body to adjust to the altitude.
Excellent physical conditioning significantly increases your ability to acclimatize as you ascend. Climbers in excellent physical condition simply have more energy to commit to the acclimatization process throughout the days and nights of the ascent, allowing their bodies to adjust to the altitude more easily.
Finally, physical performance and acclimatization are also related to how well you have taken care of yourself throughout the hours, days and weeks prior to summit day. Arriving healthy and well-rested, maintaining proper hydration and caloric intake, and protecting against unnecessary heat loss (staying warm) are all key factors in an individual's success on an expedition such as this.
Print all Trip Details
Print this Page
What You'll Need
A list of required personal equipment accompanies every RMI program, and the thought process behind each item is much greater than simply "preparing for the worst and hoping for the best." The list for your program takes into account factors such as: seasonality, route conditions, weather, elevation and more. As such, this list is framed within the broadest of contexts and is dynamic by its very nature. Therefore, certain variables (additions and/or subtractions) are inherent within such an all-encompassing list. We make every effort to recommend only top of the line clothing and technical gear and it is never our intention for you to buy or rent unnecessary gear.
The Guide Pick is an example of the listed item, giving you an idea of the material and specifications of the item. This exact item does not need to be purchased or used; however, any item you choose must have similar characteristics and performance abilities to the Guide Pick.
RMI Guides concur on the potential necessity of every item, thus every item on the list is required at gear check. However, guides may also have suggestions derived from their experience, some of which will vary from a given list. The guides' recommendation whether to bring along or leave behind certain item(s) comes during the gear check, when the team first meets. Occasionally this recommendation comes at the expense of having previously purchased an item. If a guide presents the option of leaving behind certain item(s) on the list of required equipment, it is for a reason. Their recommendation may be related to the weather, route conditions, freezing level, perceived strength of the party, or desired pack weight.
Ultimately, there will never be a consensus for a "perfect" equipment list for an ascent. It does not exist because of the multitude of variables faced by climbers throughout the climb. Please follow this equipment list closely so that you will arrive for the gear check with all the required items. Keep in mind the list is not black and white, fine tuning will occur once you meet with your guide. Have a great climb!
---
Most of the required equipment is available for rent or purchase from our affiliate Whittaker Mountaineering. RMI climbers receive a 10% discount on new clothing and equipment items ordered from Whittaker Mountaineering when they use code RMI2021 at checkout. This offer excludes sale items, rentals, meal packages, and Feathered Friends.
Equipment List
2 DUFFEL BAG(S)

120+ liter bag(s) made of tough material with rugged zippers.
LUGGAGE LOCKS

Bring as needed. Make sure these are TSA-compliant.
65+ LITER BACKPACK

Your pack must be large enough for your layers, climbing gear, and food, as well as a portion of your tent and your share of group equipment. You will not need a separate summit pack.
DAY PACK

A 25+ liter day pack to use as carry-on or while sightseeing.
SLEEPING BAG

We recommend a bag rated between 0° and -20° F. Allow ample room for movement. We recommend down over synthetic for its light weight, warmth, and packability. If you know you sleep cold, consider a -20° F bag.
COMPRESSION STUFF SACK FOR SLEEPING BAG
INFLATABLE SLEEPING PAD

A full-length inflatable pad.
CLOSED FOAM SLEEPING PAD

A full-length closed cell foam pad, used in combination with the inflatable sleeping pad.
ICE TOOLS

One set of technical ice climbing tools.
ICE TOOL TETHER

An elastic tether or "umbilical cord."
CLIMBING HARNESS

We recommend a comfortable, adjustable alpine climbing harness. Removable, drop seat, or adjustable leg loops are convenient for managing your clothing layers over the course of the climb and facilitate going to the bathroom.
1 TRIPLE-ACTION LOCKING CARABINER

Used for clipping into the climbing rope.
2 LOCKING CARABINER(S)

Used for clipping into anchors, etc.
3 NON-LOCKING CARABINER(S)

Used for pack ditch loop, etc.
CRAMPONS

12-point adjustable steel crampons with anti-balling plates designed for general mountaineering use.
AVALANCHE TRANSCEIVER WITH FRESH BATTERIES

Digital and analogue trancievers are both suitable. Bring extra batteries appropriate to the duration of the climb.
TREKKING POLES

We recommend lightweight and collapsible poles with snow baskets.
BELAY DEVICE

A tube-style belay/rappel device that can accept a variety of rope diameters.
TOOL CLIP

An ice screw holder to attach to your harness for securely clipping ice screws or ice tools while climbing.
PERSONAL ANCHORING SYSTEM (PAS, RECOMMENDED)

For clipping into anchors.
DOUBLE LENGTH SEWN NYLON SLING

120 cm sewn sling ("double-length runner").
24 ' ACCESSORY CORD

6 mm cordelette in one continuous length OR precut into two 4' sections OR two 13.5" Sterling Hollow Block sewn loops.
15 ' ACCESSORY CORD

7 mm cordelette in one continuous length OR one 240cm dyneema sling.
HELMET

A UIAA (Union Internationale des Associations d'Alpinisme) or CE (European Committee for Standardization) certified climbing helmet.
WARM HAT

Wool or synthetic. It should provide warmth but also be thin enough to fit underneath a climbing helmet.
BUFF

A Buff provides versitile head and neck protection. A neck gaiter is also acceptable.
HEADLAMP

Start with fresh batteries and bring extra set(s) of batteries appropriate to the duration of the trip.
GLACIER GLASSES

Glacier glasses are protective sunglasses that provide close to 100% frame coverage (wrap-around frames and side shields ensure no light can enter from the top, bottom, and sides of the glasses) and transmit less than 10% of visual light.
GOGGLES

Amber or rose-tinted goggles for adverse weather. On windy days, climbers, especially contact lens wearers, may find photochromatic lenses the most versatile in a variety of light conditions.
Each glove layer is worn separately as conditions change during the climb.
LIGHTWEIGHT GLOVES

Lightweight liner or softshell gloves. Lighter colors absorb less sunlight while still offering UV protection.
MEDIUM WEIGHT GLOVES

Wind- and water-resistant, insulated mountain gloves.
HEAVY WEIGHT GLOVES OR MITTENS

Wind- and water-resistant, insulated gloves or mittens. These also serve as emergency backups if you drop or lose a lighter-weight glove.
We recommend a minimum of five upper body layers, all of which can be used in conjunction with each other. Two of these should be insulating layers, one light and one medium, that fit well together. Today there are many different layering systems to choose from, including fleece, soft-shell, down and synthetic options.
LIGHTWEIGHT BASELAYER OR SUN HOODY

Long-sleeve wool or synthetic top. Lighweight, light-colored, hooded baselayers (sun hoodys) are highly recommended for sun protection.
LIGHTWEIGHT INSULATING LAYER

One step up in warmth and bulk from a baselayer. A technical fleece makes an ideal lightweight insulating layer.
MEDIUM WEIGHT INSULATING LAYER

A down, synthetic, or softshell hoody makes a great midlayer.
RAIN JACKET (HARD SHELL)

An uninsulated, waterproof shell jacket with hood.
INSULATED PARKA WITH HOOD

Your expedition-style heavy parka must extend below the waist, have an insulated hood, and be able to fit over the rest of your upper body layers. While the parka is worn primarily at rest breaks on summit day, it also serves as an emergency garment if needed. We recommend down rather than synthetic fill.
SPORTS BRA

We recommend a moisture-wicking, active-wear bra.
We recommend a system of four layers, all of which can be used in conjunction with each other. Products which combine several layers into one garment, such as traditional ski pants, don't work well as they don't offer the versatility of a layering system.
1 - 3 PAIRS OF UNDERWEAR

Non-cotton briefs or boxers.
LIGHT WEIGHT BASELAYER

Synthetic or wool.
SOFTSHELL CLIMBING PANTS

Softshell climbing pants can be worn in combination with a base layer on colder days, or alone on warmer days.
RAIN PANTS (HARD SHELL)

Non-insulated, waterproof shell pants must be able to fit comfortable over your baselayer bottoms and softshell climbing pants. Full side zippers or 7/8 side zippers are required so that shell pants can be put on while wearing boots and crampons.
LIGHTWEIGHT TREKKING PANTS OR SHORTS

A lightweight, synthetic pair of pants is a good option for the approach trek when hiking at lower altitudes and in warm conditions. These pants have no insulation, are typically made of thin nylon, and commonly feature zippers to convert between pants and shorts.
EXPEDITION DOUBLE MOUNTAINEERING BOOTS

Expedition-style double boots provide the best balance of weight, comfort, and insulation. Your boots need to be roomy enough to allow for good circulation. Anticipate a sock combination when sizing them (single sock, liner and sock, or two heavy socks on each foot). The idea is to adequately fill the volume of the boot, and to insulate. Wear the boots as often as possible before the climb, to determine proper fit, comfort and performance.
HIKING BOOTS

A pair of lightweight boots for approaches and hiking on rugged terrain. We recommend a waterproof, mid-top boot for better stability and ankle support.
CASUAL SHOES

Great for traveling and wearing around town or camp. A pair of tennis shoes or light hikers works well.
GAITERS

A knee-length pair of gaiters, large enough to fit over your mountaineering boots. This will protect you from catching your crampon spikes on loose clothing. Not needed if using a boot with an integrated gaiter.
3 PAIRS OF SOCKS

Either wool or synthetic. Whatever sock combination you are accustomed to wearing during your training or previous adventures (whether single medium weight socks, a medium weight with a liner sock, two medium weight socks together, etc.), should work just fine for this climb.
MEALS & SNACKS

See the Food tab for suggestions and quantities.
BOWL

Packable plastic bowl. Collapsable models can work but must be handled carefully to avoid unintended collapsing. A lid is a great feature.
INSULATED MUG

Insulated outdoor-style mug. We recommed a model with a removable lid, which helps retain heat and prevent spills. You may also choose to use 0.5L insulated bottle or a 0.5L nalgene.
SPOON OR SPORK

A spoon or spork made of durable plastic or anodized metal. A long-handled spoon can be nice, especially if eating from a freeze-dried meal pouch.
2 - 3 WATER BOTTLES

One-liter water bottles with wide mouths made of co-polyester (BPA-free plastic).
STUFF SACK(S)

Bring as needed.
2 - 3 LARGE GARBAGE BAGS

Heavy-duty trash compacter bags for use as waterproof pack/stuff sack liners. You can also use a a waterproof pack liner.

READING MATERIAL/JOURNAL (OPTIONAL)
PERSONAL TOILETRIES & BAG

Include toilet paper, hand sanitizer, toothbrush and toothpaste, and wet wipes. Bring a quantity appropriate to the duration of your trip.
SUNSCREEN

We recommend small tubes of SPF 30 or higher, which can be carried in pockets for easy access and to prevent freezing.
LIP BALM

We recommend SPF 15 or higher.

SPARE CONTACT LENSES/ EYEGLASSES (OPTIONAL)

Spare prescription glasses if you wear contact lenses/eyeglasses.
4 - 6 PAIRS CHEMICAL HAND WARMERS
PEE FUNNEL (FOR WOMEN)

Practice using this before coming on the climb!
PEE BOTTLE (OPTIONAL)

One clearly-marked wide-mouth or collapsible bottle for overnight use.
CAMERA (OPTIONAL)

Many smartphones have excellent cameras. Action cameras, small point-and-shoots, and compact dSLRs are lightweight and work well at altitude.
POWER BANK (OPTIONAL)

A small power bank, enough to charge a phone or e-reader several times.
TRAVEL POWER ADAPTER

For charging personal electronics while traveling internationally.
SMALL PERSONAL FIRST AID KIT

Our guides carry comprehensive medical kits, so keep yours small and light. We recommend a selection of adhesive bandages, antibiotic ointment, Moleskin and blister care, medical tape and/or duct tape, cough drops, basic painkillers, an antacid, an anti-diarrheal, and personal medications.
We recommend you speak with your physician about which medications make sense to have for remote international travel and/or high altitude climbing. At minimum, we require the following:
ANTIBIOTICS

Broad spectrum antibiotics like Ciprofloxacin (500mg tablets), Metronidazole, and Azithromycin (250mg tablets).
ACETAZOLAMIDE (DIAMOX)

125mg tablets for prevention or treatment of Acute Mountain Sickness.
DEXAMETHAZONE

4mg tablets for treatment of altitude illness.
TRAVEL CLOTHES

We recommend bringing a selection of comfortable clothing to wear while traveling as well as pre- and post-trip.
PASSPORT

Valid for six months beyond your return date.
COPY OF PASSPORT

The first two pages of your passport.
Purchase travel insurance.
Purchase airplane tickets.
Reserve rental equipment.
Be in the best shape of your life!
---
Provided Equipment
RMI provides the following equipment for your program: group and personal tents, stoves, group cooking equipment, fuel, climbing ropes, climbing anchors, fixed ropes, shovels, route wands, radios for on-mountain communication, and comprehensive first aid and repair kits.
Print all Trip Details
Print this Page
MEALS
On the Kyajo Ri you will need 4 mountain lunches plus snacks while trekking. All of your mountain lunch and snack items should weigh 6 - 8 lb.
Breakfast, lunch, and dinner meals are included while trekking. Breakfast and dinner meals on the mountain are included as indicated in our Trip Itinerary. With the exception of hotel breakfasts, most meals in Kathmandu are on your own. You are responsible for your own bottled water and drinks.
MOUNTAIN LUNCHES
Mountain lunches and snacks are eaten during short breaks throughout the day. We continually snack to keep our energy levels up while we climb - lunch begins just after breakfast and ends just before dinner! Avoid packing any items that require preparation or hot water.
The importance of having foods that are genuinely enjoyed cannot be overstated. Eating properly is the key to maintaining strength while in the mountains. In order to combat the loss of appetite at altitude we aim to have a variety of foods that stimulate the whole palate, from sweet to sour to salty.
Recommended mountain lunch and snack items: dry salami, smoked salmon, jerky (turkey, beef, fish), small cans of tuna fish, individually wrapped cheeses such as Laughing Cow or Baby Bell, crackers, bagels, candy bars, hard candies (Jolly Ranchers, toffees, Life Savers), gummy bears, sour candies (Sweet Tarts), cookies, dried fruit, nuts, energy bars, GORP mixes, and drink mixes (Gatorade/Kool-Aid).
We may have a chance to purchase food in Nepal; we recommend you take what you need and only supplement with local food if necessary.
TREKKING MEALS
The quality of food that we eat in the mountains is often surprising for first time visitors. It is rare to not look forward to a meal. Breakfast during the trek consists of typical breakfast items. Eggs, toast, hash browns, corn flakes, muesli, oatmeal, pancakes and the local specialties of chapatti and Tibetan bread are all common menu items. Breakfast meats like sausage are also sometimes found. Breakfast is accompanied by juice, coffee, tea, cocoa and other hot drinks.
Lunch and dinner options in the teahouses include a variety of choices. Soups (commonly tomato, vegetable, noodle, or hearty "sherpa stew") and momos (Nepali dumplings) are excellent starters. Main courses like chicken and yak dishes, pastas, pizzas, and even fries are served alongside vegetable fried rice or noodles and Nepali specialties such as dal bhat (rice and lentils). Be sure to save room for a dessert such as apple pie, chocolate cake, or "snickers pie!" Soft drinks, beer, and wine are also widely available, although they are priced at a premium the higher you trek.
Print all Trip Details
Print this Page
covid-19 procedures
We require that all climbers and guides be fully vaccinated against COVID-19 to join our programs. You will need to upload a copy of your COVID-19 Vaccination Card into your RMI Account before you can be confirmed on the program.
We also require climbers read, sign, and agree to RMI's COVID-19 Operating Procedures and complete two Health Screenings (one 14 days before your program date and one upon arrival) in order to participate in the program.
Payments
Deposit Payments: A non-refundable deposit payment of $1,500 per person secures your reservation.
Deposit payments may be made via MasterCard, Visa, American Expres*, e-check/ACH, or check from a U.S. bank.
Balance Payments: The balance payment is due 120 days before the start of your program.
Balance payments may only be made via e-check/ACH, check from a U.S. bank or wire transfer.**

**Wire transfers must cover all fees charged by your bank. The amount of the incoming wire to our bank must equal the balance payment amount.

A payment reminder is emailed approximately three weeks before your payment due date. If your balance payment is not received 120 days before the start of your program, your reservation will be canceled, and all program fees forfeited.
Payment in full is required when registering for a program within 120 days of the departure date.
*There is a 3% surcharge on all credit/debit card transactions. Credit/debit cards are not accepted for payments of $10,000 or more.
Cancellation
The $1,500 per person deposit is non-refundable.
All cancellations require written notification. Once the RMI Office receives your written notification of cancellation, the following apply:

If you cancel 120 or more days before the start of your program, the $1,500 per person deposit will not be refunded.
If you cancel less than 120 days before the start of your program, no refunds will be issued.
Due to the time-sensitive nature of these programs, and the amount of preparation time required for this program, we strictly adhere to our policy and cannot make exceptions for any reason.
Cancellation Insurance
We require that everyone purchase travel insurance. Please see our Travel Tab for details.
Land Cost
INCLUDED
Transportation to and from the airport in Kathmandu
Two nights at hotel in Kathmandu at beginning of trek, includes breakfast and is based on double occupancy*
One night at hotel in Kathmandu after returning from trek, includes breakfast and is based on double occupancy*
Welcome dinner
Round-trip flight to Lukla
All lodging while trekking
All group trekking supplies such as tents, stoves, etc.
All meals while trekking
Park fees and permit fees
NOT INCLUDED
International round-trip air fare and travel expenses to/from Kathmandu
Meals in Kathmandu
Any additional hotel nights in Kathmandu not included above
Recommended insurance policies (medical, evacuation, trip cancellation, etc.)
Personal gear
Excess baggage fees
International airport departure taxes and Nepal entry visas
RT-PCR or Antigen test required for return to United States
Customary guide gratuities
Support Staff Tip Pool (we suggest $200 per person)
Satellite telephone, air charges and internet use
Personal expenses, room charges and beverages
Any expenses from COVID-19 or COVID-19 testing that causes delays or quarantine requirements such as additional lodging, food, transfers, border issues, delayed test results, etc
* Accommodations are based on double occupancy. A Single Supplement Fee will be charged to those occupying single accommodations by choice or circumstance. The single supplement is not available in huts, tents, or in all hotels.
Rainier Mountaineering, Inc. reserves the right to modify the land cost of a trip at any time before departure.
Risk Management
Please clearly understand that mountaineering is inherently a hazardous sport. Managing risk is RMI's number one priority. Our guides manage significant hazards inherent in mountaineering such as avalanches, ice fall, rockfall, inclement weather, and high winds, but they cannot eliminate them.
You are choosing to engage in an activity in which participants have been injured and killed. While those accidents are indeed infrequent, they may occur at any time and be out of our control. We ask that participants acknowledge the risk and hazards of mountaineering, and make their own choices about whether or not to engage in this activity.
PARTICIPANT Responsibilities
Mountaineering is both an individual challenge and a team endeavor. Each Participant is required to share in the responsibility of the safety and success of the team. For this reason, we ask that each Participant:
Possess the necessary physical and mental fitness required for this program.
Be responsible for knowing all pre-departure information.
Provide a signed Physician's Certificate stating that the Participant is medically qualified to join this program.
Update the RMI Office if there are any changes to your health or medical information before departure.
Be properly attired and equipped as outlined in the Equipment List.
Act in a considerate manner toward all team members and show respect for local customs, values, and traditions in the areas we travel.
Help minimize our impact on the environment and follow appropriate Leave No Trace practices.
Describe yourself, honestly and accurately, in terms of fitness, health, skills, abilities, and your equipment to your guide staff.
Communicate with your guide staff on the mountain if there are any changes in your medications or health.
Adhere to the advice of your guide staff.
Continue to self-assess throughout the program, measuring your fitness, health, skills, and abilities against the demands required of the program.
RMI reserves the right to dismiss the Participant from a program or to send the Participant to a lower altitude at any time if the RMI Guide Staff determines, in its sole discretion, that the Participant is not physically, technically, or psychologically prepared for, or capable of participating in the program, or for any other reason that may compromise the safety, health or well-being of the Participant or the entire group. If this decision is made, the Participant will not receive any refunds or credits and will be financially responsible for any additional costs associated with an early departure, including but not limited to, evacuation, transportation, hotel reservationss, meals, etc.
Zero Tolerance Harassment Policy
Rainier Mountaineering, Inc. (RMI) does not tolerate harassment or mistreatment of our participants or employees. Inappropriate conduct under this policy may include conduct that creates a disrespectful, intimidating, hostile, degrading, humiliating, or offensive environment for a participant or employee. Engaging in such conduct is a violation of this policy.
RMI may consider conduct to be in violation of the policy even if it falls short of unlawful harassment under applicable law. When determining whether conduct violates this policy, we will consider whether a reasonable person could conclude that the conduct created an intimidating, hostile, degrading, or demeaning environment.
Violation of this policy may result in removal from a program, as well as refusal to provide services indefinitely. We place the utmost value on the safety of our participants and employees. Please report any incidents to RMI management.
Age-Appropriate Guidelines & Restrictions
In the interest of the safety and well-being of all participants, RMI adheres to the following age-appropriate guidelines:
Ages 15 & under: No participants age 15 & under
Ages 16 & 17: Accompanied by a parent or legal guardian for the duration of the program
Ages 18 & above: No restrictions
An individual's birthday must precede the departure date of the program. For example, a 15-year-old who turns 16 on July 1 may participate on a program beginning July 2.
Under-aged participants on Private Climb or Group Climb programs are assessed on an individual basis.
A parent or legal guardian must accompany the minor climber throughout the entirety of the program. If either climber must descend at any time during the program, both climbers must descend together.
A parent or legal guardian must sign for any Participant that is under 18 years of age. On behalf of any minor participant, the parent or legal guardian understands and accepts all the terms of the Program Policies.
Summit Attempt
RMI cannot guarantee that you will reach the summit. Weather, route conditions, your own abilities, or the abilities of other climbers may create circumstances that make an ascent unsafe, and you or your entire group may have to turnaround without reaching the summit.
Failure to reach the summit due to a person's own lack of fitness or to any of the events associated with mountaineering (such as weather, route conditions, avalanche hazard, team dynamics, etc.), are not Rainier Mountaineering, Inc.'s responsibility and will not result in a refund, credit, or reschedule.
General Policies
RMI's program schedule and itineraries are subject to change or adjustment based on a number of factors. These include, but are not limited to, route conditions, weather, group strength, terrain, or other environmental factors, and many other factors. RMI has complete discretion to change plans to accommodate any of these or other factors, including but not limited to increases in program fees, changes to program schedule or itinerary, and changes to guides or staff, as necessary for the proper and safe conduct of the program. Once the program has started, the Lead Guide will decide on any changes to the itinerary, including ending the program early if the continuation of the program may compromise the safety, health, or well-being of the group.
We reserve the right to cancel any program due to inadequate signups, weather, route conditions, or for any other reason. In such a case, we will make every effort to reschedule the Participant on a different program date. If rescheduling is not possible, we will issue the Participant a refund for all program fees paid to RMI, less any non-refundable payments made on behalf of the Participant to secure any of the included land costs provided for this program, including but not limited to, hotel accommodations, transportation, transfers, tours, group equipment and food, permits, and local outfitter services, prior to the cancellation of the program. Additionally, RMI cannot be responsible for any non-refundable expenses the Participant incurred in preparation for the program (i.e., airline tickets, hotel reservations, rental cars, equipment purchases or rentals, etc.).
Once a program begins, there are no refunds or credits for weather-related cancellations or for a program that may end early due to weather, route conditions, or any other circumstances that may compromise the health, safety, or well-being of the group. Furthermore, if the Participant decides for any reason not to begin a program or to discontinue a program at any time, no refunds or credits will be issued. The Participant will be responsible for all additional costs associated with an early departure, including but not limited to evacuation, transportation, hotel reservations, meals, etc.
The Participant is responsible for any costs due to COVID-19, including but not limited to, any testing fees to enter another country, tests required to return to the US, and/or costs associated with medical care and/or quarantine such as hotel accommodations, meals, separate transportation, etc.
Land Costs are provided as a package, and refunds or credits will not be issued for any unused meals, accommodations, group transportation, or other unused costs. Accommodations are based on double occupancy. A Single Supplement Fee will be charged to those Participants occupying single accommodations either by choice or circumstance. If you are willing to share a room, we will make every effort to pair you with another same-gender team member. We will match willing same-gender team members based on the order of registration date. If we are unable to match you with another same-gender team member, a single supplement fee will be charged. The availability of single accommodations is limited in most of the hotels where we stay, and single accommodations are not available while in the mountains.
The Participant understands and agrees that RMI assumes no responsibility or liability in connection with any travel and hospitality services provided to the Participant by other companies in connection with the program, including but not limited to, the services provided by airlines, hotels, rental cars, and transportation companies and that RMI is not responsible for any act, error, omission, or any injury, loss, accident, delay, irregularity, or danger by a supplier of travel or hospitality services to the Participant in connection with the RMI program. The Participant will be responsible for all costs associated with any travel delays, missed connections, or missing baggage that requires additional arrangements (separate transportation, hotel accommodations, meals, etc.) to be made on your behalf for you or your baggage to rejoin the program.