---
Mt. McKinley: Van Deventer & Team Charging to 7,800'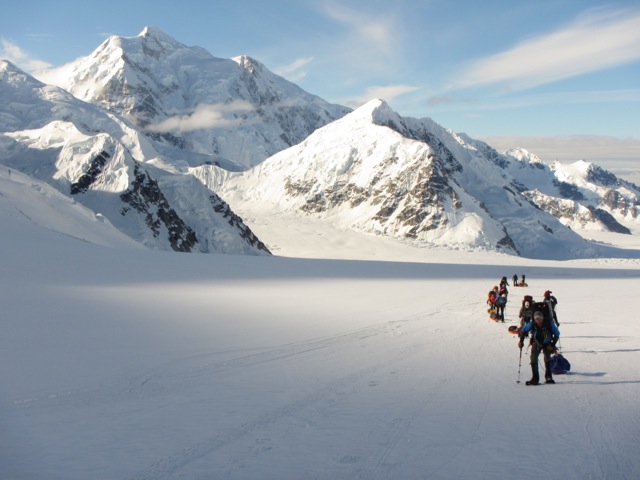 Hi all,
Today started on the early side and ended late, but we got so much accomplished today. We started with a last hearty breakfast of bacon, eggs, potatoes, and toast with plenty of coffee, before heading to the H2 hangar to catch the first flight off the runway. The flight into Kahiltna Base Camp is always stunning, and today was no exception. The turn over the West Ridge of Mt. Hunter brought Base Camp into view, and we banked for the runway.
With all of our team on the glacier, we started preparing everything to walk. We weren't sure the surface conditions would be firm enough by midday, but we prepared nonetheless. We rigged sleds, packed duffels and packs, sorted group gear, and at last decided it was time. Some thin, high clouds had moved in, helping to keep the heat from making things too sloppy, so we decided to go for it. We descended Heartbreak Hill, and made the turn up the main Kahiltna, walking to 7,800 feet, at the base of Ski Hill. Here we spent the evening setting our first camp.
Tomorrow the plan is to move with all of our gear to 9600'. There is word of some weather coming in, so we'll see how that impacts our plan, but we are psyched to have made our first moves towards the mountain. All for now, we'll be in touch tomorrow.
On The Map
×
Sign Up For Denali 2014 Emails
{/exp:mailinglist:form}
---
More to Explore
Mt. McKinley: Walter & Team Movin' On Up
May 16, 2014
May 17, 2014