Entries By chris ebeling
Standing in the Taggert Lake parking lot of Grand Teton National Park, we gather for one of the last morning guide meetings of our AMGA Ski Guide Course. Everybody smiles and chuckles as our meeting leader reads the weather report. Over the last 9 days we have received over 80 inches of snow containing more than 8 inches of water equivalency. The avalanche forecast is high and predicted to hit extreme after a rain event starts this evening. We all talk about dialing back our terrain choices…way back. This storm has been relentless for many days, altering our objectives, creating whiteout conditions to navigate, forcing meticulous terrain selection, and making for some great skiing. We have all learned many tools for creating a positive and safe mountain experience amidst a dangerous snowpack. Today we talk about our tour plan, a planned route up a 3000 vertical foot feature in Grand Teton National Park. Through mapping tools, some math, and a little technology, we know what we're getting into and have a plan to manage the risks. We talk about who will take the lead for our group on each climb and each descent, as well as our pacing, timing, emergency plans, equipment, and weather forecast. We break our meeting, beacons checked, skins on, click in, it's time to go skiing!
AMGA Ski Guide Course - Jackson 2017 from Chris Ebeling on Vimeo.
In February with the help of the RMI guide grant I attended this 12-day AMGA (American Mountain Guides Association) Ski Guide Course in Jackson, Wyoming. This is the second course in the four courses and exams that lead to becoming a certified AMGA ski guide. The course covers numerous factors of guiding in the winter environment. Managing terrain, instruction and modeling, and putting clients in the safest, best snow is the primary focus of our techniques on the down. Creating efficient tracks, navigation, and terrain selection is a big focus of our time guiding the climb. We cover many technical factors as well, including adding security in 3rd class terrain using our rope, technical lowers and rappels into steep ski terrain, crevasse rescue on skis, travel with an improvised emergency sled, and construction of winter emergency shelters.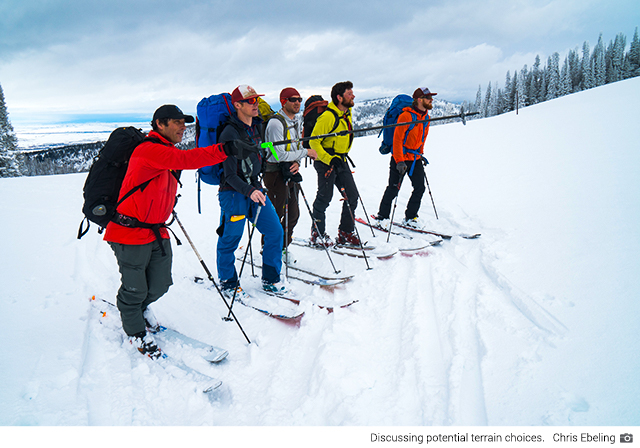 Many thanks to RMI and the RMI guide grant for their financial and mentorship support. Another big thanks to our instructors Christian Santelices and Rob Hess for their dedication to growing the professionalism of our guiding community.
_____
Chris Ebeling has been guiding with RMI since 2015. He grew up in the Northwest, climbing, skiing, and riding around Oregon and Washington before making the move to the Northern Rockies of Montana. He returned from Montana to join RMI, but still returns to Montana to explore the remote corners of his home range during the winter.
Next Page