Most Popular Entries
Posted by: | June 01, 2014
Categories: *Mount Rainier
Our thoughts are with our friends at Alpine Ascents and with the family and relatives of the guides and climbers involved in the climbing accident on Mt. Rainier. The climbing community is tightly knit and we feel the loss deeply. Our sincerest thoughts and prayers go out to all of those involved.
Please join the climbing community for a memorial service for Eitan Green and Mathew Hegeman:
Saturday, June 21, 2014 | 3 - 5 pm
The Mountaineers | 7700 Sandy Point Way NE | Seattle, WA 98115
- The RMI Team
3140 views
---
Posted by: | January 03, 2012
Categories: *Guide News
RMI Founder Lou Whittaker was interviewed last month by the Magic Valley Newspaper in Twin Falls, ID. Lou took some time off from skiing in Sun Valley to sit down and talk about his lifetime of climbing. Check out the article: Famous Mountain Climber Lou Whittaker Talks about His Highest Climbs.
3120 views
---
Posted by: | July 23, 2014
Categories: *Everest BC Trek
There is something to admire around every turn of the 31 mile trail through the Khumbu Valley from Lukla to Everest Base Camp. Monasteries, cultivated fields, grazing yaks, and tiny villages all share the valley, sitting beneath the some of the world's tallest and most stunning mountains. A few of our guides sat down to compile a list of ten things to be sure and experience on the Everest Base Camp Trek:
 
10. View From Kala Patar: It's not widely known, but the view from the top of Kala Patar, a rocky outcropping above Gorak Shep, provides a sweeping panorama from Everest to Ama Dablam and are far better than those of Base Camp.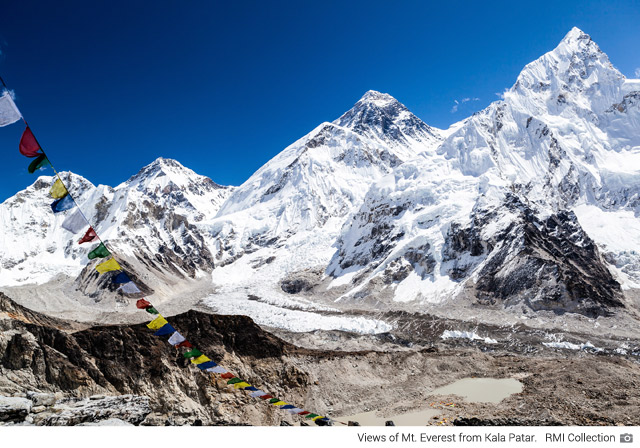 9. Lama Geshe: A renowned spiritual leader living in a small house in Pangboche, Lama Geshe never fails to greet visitors with a deep laugh and broad smile. As he chants prayers in his native Tibetan in a deep but soft voice, he provides a fascinating appreciation and insight into the Buddhist process of embarking on a journey, whether for an Everest Expedition or a trip to visit distant relatives.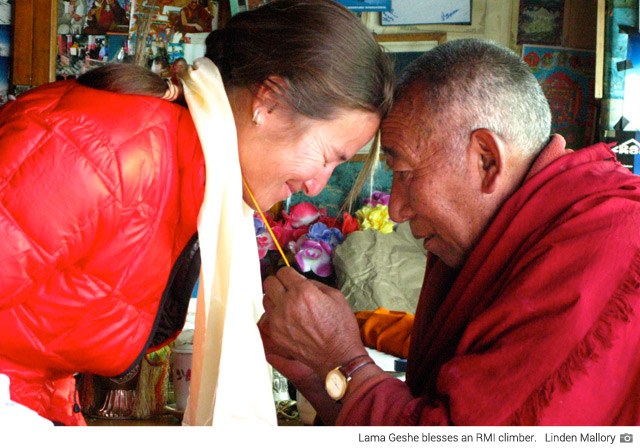 8. Momos: Akin to Chinese dumplings, the Nepalese momo is a delicious treat after a long day on the trail.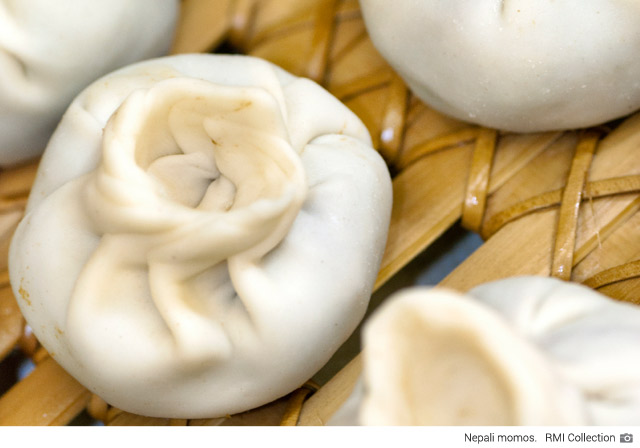 7. Afternoon prayers at the Tengboche Monastery: After making the 1,300' ascent to the ridge top Monastery, find a seat along the edges of the Dokhang (the prayer hall), framed by a two story tall golden statue of Buddha, and listen to the deep chants of the resident monks fill the space.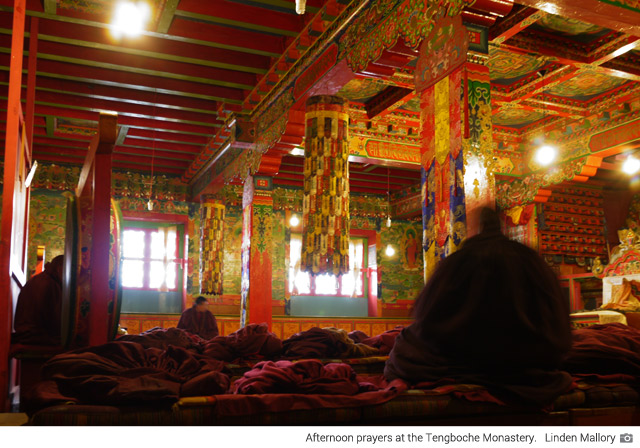 6. Exploring Namche Bazaar: Perched on a hillside in the middle of the Khumbu, Namche Bazaar is the cultural and economic hub of this mountainous region. Yaks, monks, and Tibetan traders share the narrow streets with locals and trekkers alike, and a new discovery can be found around every corner, from tailors to bakeries to monasteries and museums.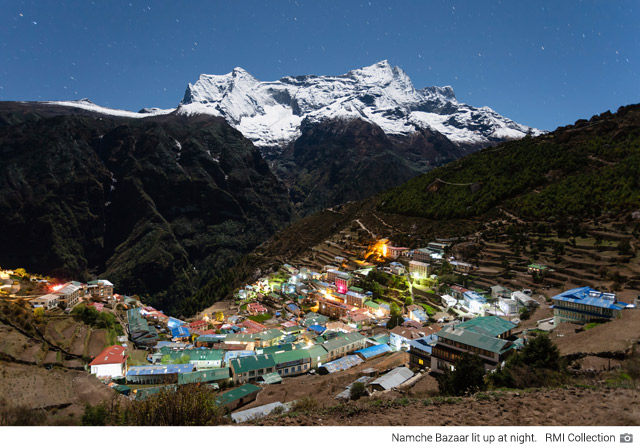 5. The experience of trekking lodge-to-lodge: After a warm breakfast served in a cozy dining room, shoulder a light day pack with only the gear you need for the day, leaving your duffel outside your door, and start up the trail. Spend the day wandering through villages, fields, and valleys, until you reach your next night's teahouse where your bag awaits. The teahouses are simple but comfortable, with cozy community dining rooms to eat, relax, and socialize in and sleeping rooms just down the hall.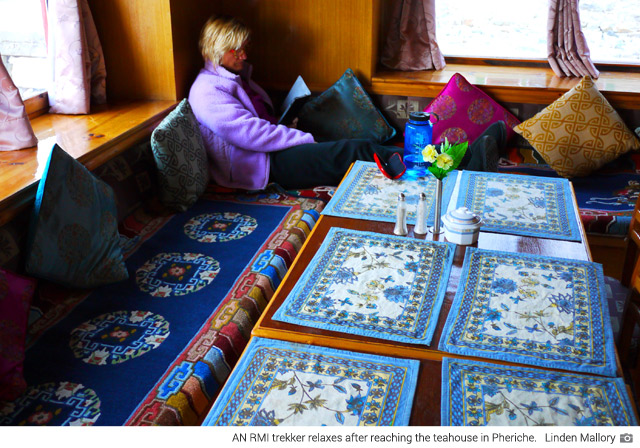 4. The Trail: While the excitement of trekking to Base Camp is reaching  the foot of Everest at the end of the trail, the wonder comes from the entire experience of traveling the trail, where a simple centuries old footpath serves as both highway through the valley and the villages' Main Streets. Slow your pace now and again to look around and take in the shops, homes, and life that all happens right along the path!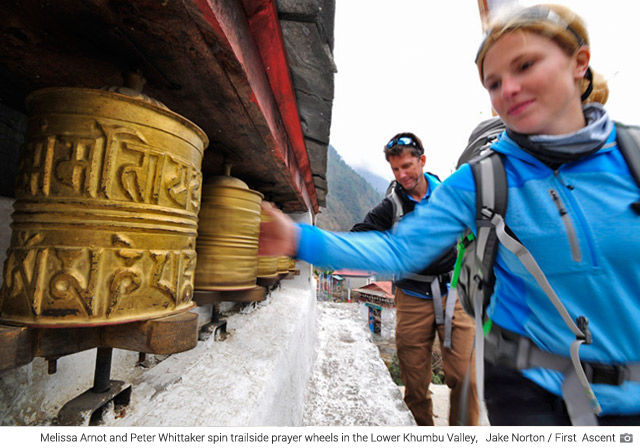 3. Island Peak's summit ridge: Ringed by several of the world's greatest mountains (Nuptse, Lhotse, Everest, and Ama Dablam), the airy summit ridge of Island Peak provides all of the excitement of Himalayan climbing in a short extension to the spring trek.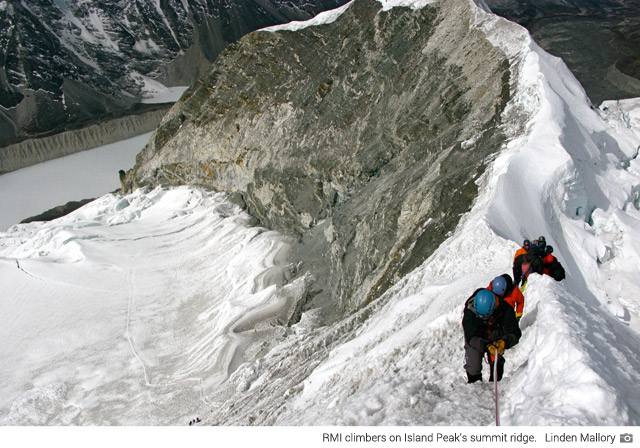 2. Spending the night at Everest Base Camp: you've walked all that way, why turn around and leave again in a matter of hours? Spending the night in Base Camp is a peek into the full experience of embarking on an Everest Expedition and enjoying a cup of tea while watching the sun peak over the top of the Western Cwm is an unforgettable moment.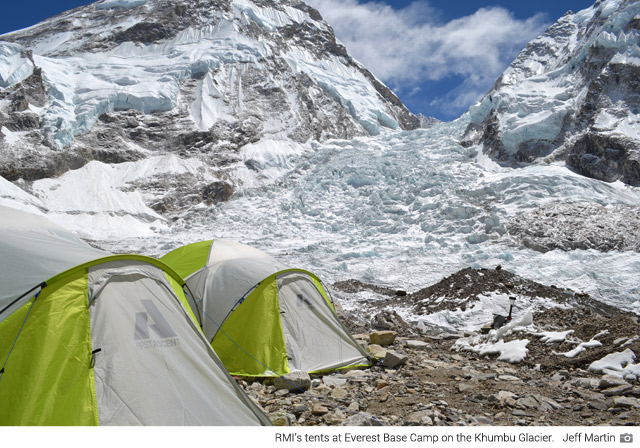 1. Stopping to soak it all in: The Khumbu is simply an amazing place. One of the best things is just being there: stopping to dig your heels into the ground and looking around. There is nowhere else in the world like it.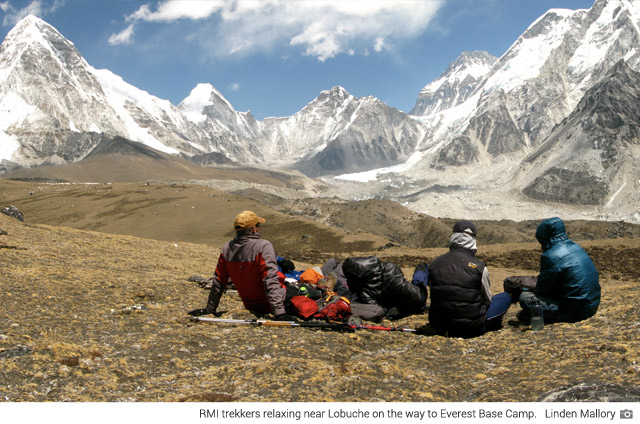 Ready to experience the Khumbu for yourself? Join RMI on a trek to Everest Base Camp!
3037 views
---
Posted by: | January 21, 2013
Categories: *Mountaineering Fitness & Training
As we focus forward on the training for this year's climbing adventures, we know we'll be hiking, climbing, probably doing some stair interval training with heavy packs, and developing strength training routines.

The training adventures need not be boring though, cross-training keeps us both balanced and motivated.

I like to categorize my cross training by asking, "Is this a direct benefit to mountain climbing or is this activity more general conditioning focused?" Sports like cycling, cross-country skiing or skating have a very direct benefit in building endurance for the mountains, in fact a bike ride can be a perfect substitute for a hike.

Other sports like soccer, kickboxing, or activities like dancing and yoga, while perhaps not as directly related to mountain climbing, can have wonderful benefits for overall conditioning.

Thinking out of the box completely, I met a person last week who did remarkably well on a training hike despite not having 'trained' very much. I asked him where he thought his fitness came from and he said, "I'm a UPS driver, I use a pedometer to track my steps and generally do 15,000 steps each day - most of them carrying boxes." 15,000 steps equals about 5 miles walking! I think he's going to have a big head-start on his 16 week training program!

Cross training is an important part of your training program, keeping you mentally engaged and physically healthy. Beyond the cornerstones of your regular training program that includes long hikes, short intense sessions, and strength training, what fun things do you enjoy to do to which add to your fitness? Are you lucky enough to have one of those jobs which gets you walking during the day? How can you plan your days to add an activity or sneak in a few extra miles from place to place?

Get outside and be creative with your cross training!

- John Colver
John Colver is a longtime climber, former mountain guide, and certified personal trainer with the American Council of Exercise. Colver introduced outdoor fitness classes to athletic clubs throughout the greater Puget Sound region before creating his adventX brand. Currently, adventX leads training programs in Seattle and Colver presents clinics on outdoor fitness at companies such as Microsoft, Boeing, the American Lung Association, and REI.
Questions? Comments? Share your thoughts with John and other readers on the RMI Blog!
3025 views
---
Posted by: | January 06, 2014
Categories: *Mountaineering Fitness & Training
Another wide ranging cold front is dropping across the U.S. this weekend, drawing down Arctic air and threatening to plunge temperatures below zero from coast to coast. Seriously cold wintertime temps aren't abnormal for many athletes in more northern climes, and most grit their teeth, throw on a couple more layers, and continue with their training. Training goes on and we make the most of the weather, but treat these cold snaps with respect. Several studies, by the Norwegian and Swedish national athletic programs, as well as the US Olympic committee, have shown that strenuous endurance training in cold, dry conditions can lead to lung and bronchial irritation and inflammation, and that prolonged training in these conditions increases the incidence of asthma and bronchospasms.
After the Nagano Winter Olympics in 1998, the US Olympic committee found that over 25% of the American team suffered from bronchospasms (uncontrollable spasms of the bronchi), and that of cross country skiers (athletes making long and exerted efforts in snowy and cold conditions), this respiratory problem was present in over half of the individuals. A similar study of elite level cross country skiers in Sweden and Norway showed repeatedly that over half of these athletes display asthma like symptoms and decreased lung capacity.
While a few days of training during a cold snap won't be enough to cause most athletes long term respiratory distress, it could be enough to cause some bronchial irritation and inflammation that could impact training for the next few weeks. This may be a good time to focus your training week on a few more gym and indoor workouts, and if you do train outside, consider training with a neck gaiter or buff over your mouth, to help warm the air as it enters your lungs. In chronically cold places, such as Alaska, athletes have developed special masks for training in cold conditions. Essentially stripped down respirators, they hollow metal grid of the mask retains the heat of each exhaled breath, helping to warm the next breath.
Stay motivated, wear a few more layers, and take care. If an outdoor workout leaves your lungs and throat feeling raw and irritated, don't push it. Do your next few sessions indoors, the irritation heal and subside. Good luck and happy training!
Read more about the respiratory studies here.
Questions? Comments? Share your thoughts here on the RMI Blog!
2948 views
---
Posted by: | November 12, 2012
Categories: *Mountaineering Fitness & Training
Rest and recovery is an important part of the training process and there are many techniques, both active and passive, that can help. Recovery from your training efforts can be looked at from physiological and psychological perspectives. Here are some tips: 
1. Plan Your Training: The first step in getting adequate recovery is crafting a solid training plan allowing for phases of training to build progressively and allowing time for active rest.
2. Keep Track: Keeping a training log is a good way of reviewing your progress. I suggest recording not only the volume, intensity, and type of each workout completed, but also your own notes about how you felt in each workout. Self-monitoring how you feel mentally (strong, weak, interested, un-interested) will allow you to see how you are progressing in an overall sense.
3. Get Psychological Rest: Psychological strategies are important factors in reducing and managing stress. Relaxation, meditation, reading, visualization, and using a coach as a sounding board are all valuable tools in helping to maintain focus and a positive attitude throughout your training. Relaxation is also helpful in ensuring quality sleep, which is essential for recovery.
4. Take Social Time: Too much of a good thing can be bad for us. Taking a complete break from climbing and hiking to participate in alternative activities can be a good way to decompress. Mix your hard training up with a different sport; play soccer, frisbee - anything really. At RMI there is a penchant for beach volleyball, ping pong, and horseshoes - it's a nice mental break from the mountain and those downtime matches are intense but a lot of fun. 
5. Get Therapeutic Rest: Sports massage, some forms of yoga, hot baths, and hydro-massage are just some examples of the many techniques available to help relax muscles after training and prepare for subsequent training sessions. 
6. Pay Attention to Nutrition: Proper nutrition is essential for complete recovery. Quality food that is rich in nutrients is a key requirement for re-supplying energy stores and maintaining our body, it's muscles, bones, organs, and systems (see Nutrition for Mountaineering Training for more information on nutrition).
Mountain climbing is tough on the mind and body - and so is training for it. When we climb we steal every opportunity to recover from the hard work so that we can get up the next day and do it again. Training demands the same attention to rest and recovery. This is a work-hard, rest-hard activity and often times your success will be as much dependent on how well you rest as how hard you train. 
- John Colver
 
                      
John Colver is a longtime climber, former mountain guide, and certified personal trainer with the American Council of Exercise. Colver introduced outdoor fitness classes to athletic clubs throughout the greater Puget Sound region before creating his adventX brand. Currently, adventX leads training programs in Seattle and Colver presents clinics on outdoor fitness at companies such as Microsoft, Boeing, the American Lung Association, and REI. Colver lives in Seattle.
Questions? Comments? Leave a comment to share your thoughts with John and other readers!
2918 views
---
Posted by: Pete Van Deventer | August 12, 2013
Categories: *Mountaineering Fitness & Training
Between training and the climb itself, climbers spend a lot of time with a pack on their backs. Somewhat of a necessary evil, the goal is to make your pack carry comfortably and efficiently so that it doesn't work against you. A few tips that will result in a more enjoyable pack to carry:
1. Minimize dead space in the pack
2. Try to fit everything (except the ice axe) inside the pack
3. Keep the mass of the pack close to your body
4. Frequently adjust the straps to carry the load more comfortably
5. Have a system
Minimizing dead space in the pack will help the pack ride in a more balanced way, and allow you to fit everything inside. A big factor that creates dead space is too many stuff sacks packed together. Round or barrel shaped stuff sacks don't nest together well, instead leaving large gaps between them (like a cup full of marbles). To minimize this effect, try to limit the number of stuff sacks you use. A compression stuff sack for your sleeping bag is important, as it dramatically reduces the volume of the sleeping bag, but most of the other items can be packed loose, without stuff sacks. The down parka and spare insulating layers do a great job of packing around the sleeping bag to fill any spaces. Some guides go so far as to pack their pack partway, and then (taking care not to crush anything breakable) insert their foot into the pack and squish everything down to squeeze out all of the air. In addition, if climbers have packs with dedicated sleeping bag compartments, I often recommend that they detach the shelf that separates the compartment from the main pack, and treat the pack as one large tube. Sleeping bag compartments tend to create dead space where we want it least, right near the center of mass of our bodies.

Minimize the number of items that are attached to the outside of the pack. The ice axe generally has a dedicated attachment point (the ice axe loops), and is really the only exception to this rule. The rest of our equipment should fit inside the pack. With a little bit of thought, items that seem to take up a lot of space can be packed more efficiently. For example, by stuffing the helmet with extra socks and food before packing it, the volume of the helmet itself becomes very little. Crampons can be put together so that the tines cover each other, and they too can be placed in the pack. Items clipped to the outside of the pack tend to swing, get damaged, and make a ruckus. By minimizing the number of items clipped to the outside of the pack, your pack will carry more comfortably and with less noise!

In general when you are packing, place items that you won't need or use that stretch to the bottom of the pack, while items that you would like to keep handy (food, sunscreen, etc) stay near the top. Additionally, place heavier items closer to the back panel of the pack, keeping them nearer your center of mass.

There is no perfect fit for a pack, and comfort and fit of your pack will change throughout the course of a climb or training session. In general, try to carry the majority of the weight on your hips. When putting on a pack, hitch the pack up higher on your back than it will ride, and cinch down the waist strap. Then tighten the shoulder straps until they just make contact with your shoulders. Next, lightly tighten the load lifter straps on the shoulder straps and waist belt. This helps to pull the weight of the pack in closer to your back and helps with balance. Lastly, constantly adjust throughout the day as discomforts arise!

Have a system to your pack so that you have a good idea where each item is. This will save you time and frustration throughout the climb, if you can reach straight to a warmer pair of gloves for example, rather than unpack most of your pack each time you need an item. With a well-organized system, you will spend more time at each break resting and recovering, and less time digging for items in your pack.

With a little bit of time and practice your pack won't be such a burden and your training sessions, and ultimately the climb, will be more enjoyable!

________
Pete Van Deventer is a senior guide at RMI Expeditions. A former collegiate nordic skier, Pete climbs and guides around the world, from the Andes to Alaska. Read about Pete's recent sailing and ski mountaineering trip to Norway's Lofoten Islands on the RMI Blog.
Questions? Comments? Share your thoughts here on the RMI Blog!
2911 views
---
Posted by: Dave Hahn, Melissa Arnot | May 25, 2012
Categories: *Expedition Dispatches *Everest
Elevation: 29,035'
On Saturday, May 26th at 9:31 a.m. Nepali time the RMI 2012 Mt. Everest Expedition reached the summit!
RMI Guides Dave Hahn and Melissa Arnot led the team of climbers to the summit of Mt. Everest at 29,035'. This marks the 14th summit for Dave Hahn and the 4th for Melissa Arnot.
Congratulations to the team!!!
On The Map
2881 views
---
Posted by: Dave Hahn, Melissa Arnot | May 23, 2012
Categories: *Expedition Dispatches *Everest
Elevation: 24,000'
Hello from Everest Base Camp,
I spoke with Dave and Melissa at Camp 3 and WOW did they sound great!
The climbing team left Camp 2 early this morning under perfect conditions. As they periodically checked in it sounded like they were truly enjoying the climb and taking pictures when possible. As you can imagine, under harsh weather there isn't time to enjoy the mountain and the views.
Our super Sherpa team started a bit earlier and set up tents at Camp 3 then returned back to Camp 2 to spend the night. The equipment that had been brought up there weeks ago was all intact and the team was able to pull into a well provisioned home for the night. Last I heard Melissa was kicking Dave's you know what in the stove boil off competition for dinner, Go Melissa Go!
As this climb is quickly coming to it's conclusion, and a day like today that can be so pivotal in the future success I get so excited with this good luck. Not that these tough individuals wouldn't meet the challenge of wind, cold and snow. I just like the way it is shaping up.
The weather forecast is still looking good with winds decreasing over the next few days. You have to love that!
The Sherpa team will get out of Camp 2 early tomorrow morning and the climbing team will try and have a seamless hand off of some gear to them from Camp 3, check out time should be around 6:00 am. Then the whole team should climb together up to high camp the South Col, getting there midday, that should allow enough time for rest and preparation for early departure toward the summit that night.
RMI Guide & Everest Base Camp Manager Mark Tucker

RMI Guide Dave Hahn checks in from Camp 3 on Mt. Everest.
On The Map
2839 views
---
Posted by: | July 29, 2013
Categories: *Mountaineering Fitness & Training
Mountaineering is thought of as a "slow and steady" sport. Indeed, the climbing pace when nearing the summit is amazingly slow given the effort required by the high altitude, especially in comparison to moving at the same speed at lower elevations. As a result, climbers often overlook the necessity of incorporating speed and intensity into their training routine and instead focus on long, slow aerobic-oriented workouts. This is a mistake. Interval training is an important component of conditioning for mountaineering as it raises your anaerobic threshold, effectively giving you "more gears" when climbing at altitude. 
 
Aerobic vs. Anaerobic
Generally speaking, aerobic activity is the zone of physical activity where the body is able to provide adequate oxygen to the cells to keep them fueled, reducing the rate of fatigue. Anaerobic exercise is when the physical effort is high enough that the body cannot provide enough oxygen to the cells, causing them to use other energy stores to make up the difference and causing a much higher rate of fatigue. Think of taking a casual walk through the park (aerobic) vs. sprinting up multiple flights of stairs (anaerobic) - which can you sustain for longer? 
 
As athletes and climbers, our goal is to raise our anaerobic threshold - the level of effort where our bodies transition between aerobic and anaerobic activity. A higher anaerobic threshold allows us to climb at increased effort levels (like climbing at altitude) without entering an anaerobic zone and tiring quickly. Some sources say that climbing in your anaerobic zone will deplete your energy stores as much as 16x more quickly than staying within your aerobic zone! Raising your anaerobic threshold provides huge gains to your fitness when you head into the mountains. 
 
Interval Training: Raising Your Anaerobic Threshold
Interval Training is one of the most effective way to raise your anaerobic threshold. Interval training consists of short, intense bursts of physical effort. Learn more about general interval training here. The best types of intervals for improving your anaerobic threshold are extended efforts at just below your maximal effort level (or maximum heart rate if you train with a heart rate monitor) repeated several times with an equal amount of rest between intervals. The exact intervals you complete depends on your fitness level and chosen activity. Discuss an appropriate interval plan with a trainer or fitness specialist. General intervals targeting your anaerobic threshold include:
• 4 x 4 mins with 4 mins rest
• 5 x 3 mins with 3 mins rest
• 4 x 800m with 3 mins rest
You can do intervals while running, hiking, biking, on a rowing machine, or any sort of aerobic exercise equipment. Be sure to properly warm up and cool down before and after every session. Like all training activities, anaerobic interval training is best incorporated into a broader training routine, be sure to continue to include aerobic, strength and core, flexibility, and balance and agility training. It is best to begin your interval training in the early stages of your training plan so that your body is familiar with the exercises, you have the time to recover and improve, and are not exhausting yourself with intense interval training immediately before your climb. 
 
In order to truly go "slow and steady" in the mountains, we need to first go short and fast!
Questions? Comments? Share your thoughts here on the RMI Blog!
2828 views
---
Previous Page
More Entries