Today was another beautiful day. The crew climbed the first leg of the route in preparation for our climb tonight.
A couple of us kicked in the route today which goes up the Disappointment Cleaver.
The route is in great shape and were all looking forward to the climb.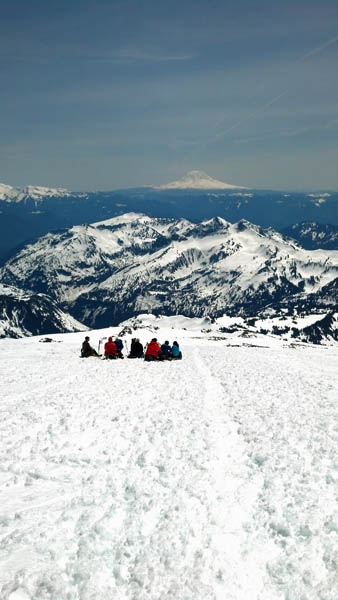 RMI Guides Brent Okita and Tyler Jones are leading our first 2014 Mt. Rainier Summit Climb! The team is doing great and had beautiful weather on their ascent to Camp Muir today. Tomorrow the team will go on an acclimatization hike and get ready for their summit bid on Wednesday.
Best of luck with the summit bid! Please post more pics! My kids want to be inspired by their Uncle Chris. We love you Uncle Chris!
Love,
Your Sister
Posted by: Jennifer Ward-Maseda on 5/20/2014 at 7:27 am
Wish I could be there with all of you,...someday, I will go.
Be careful and have a great time!
Posted by: Deblan on 5/13/2014 at 5:16 pm